Optional 1:SUNX5 Plus 80W
Power: 80W
Intelligent induction: 10s/30s/60s and 99s low heat mode(The auto sensing time is 120S)
Lamp beads: 36 dual-source UV/LED lamp beads
Baking type: phototherapy glue. Nail glue, extended glue, etc.
Light source: dual light source UV/LED
Material: ABS
Features:
1.Sunshine nail dryer,comfortable eye contact,relieve burning sensation
2.This product uses double-core 365+405nmnm LED lamp beads, which can quickly dry UV glue/extension glue/LED glue
3.The sunlight manicure and phototherapy machine will not blacken your hand or hurt it
4.Infrared sensors will start itself when hand into the nail lamp
5.36 pcs strategically placed LEDs,no dead-zone,more free
6.Its common 10s,30s,60s timers let you control the curing time with each layer.Depending on the type of glue used, the user can select different times
7.Cures all kinds of nail gel polish: LED gel, UV gel, Builder gel, Sculpture gel etc
8.All 36 LED beads (including infrared ones) turn on/off when users' fingers are in/out.
9.Not only for hand nails , It works great for toes too 
10.Suitable for home and professional use
Note: Do not allow water or other liquids to enter the machine to avoid machine malfunction.
Package List :
1 * 80W LED UV Lamp
1 * US/EU/AU/UK plug
1 * Box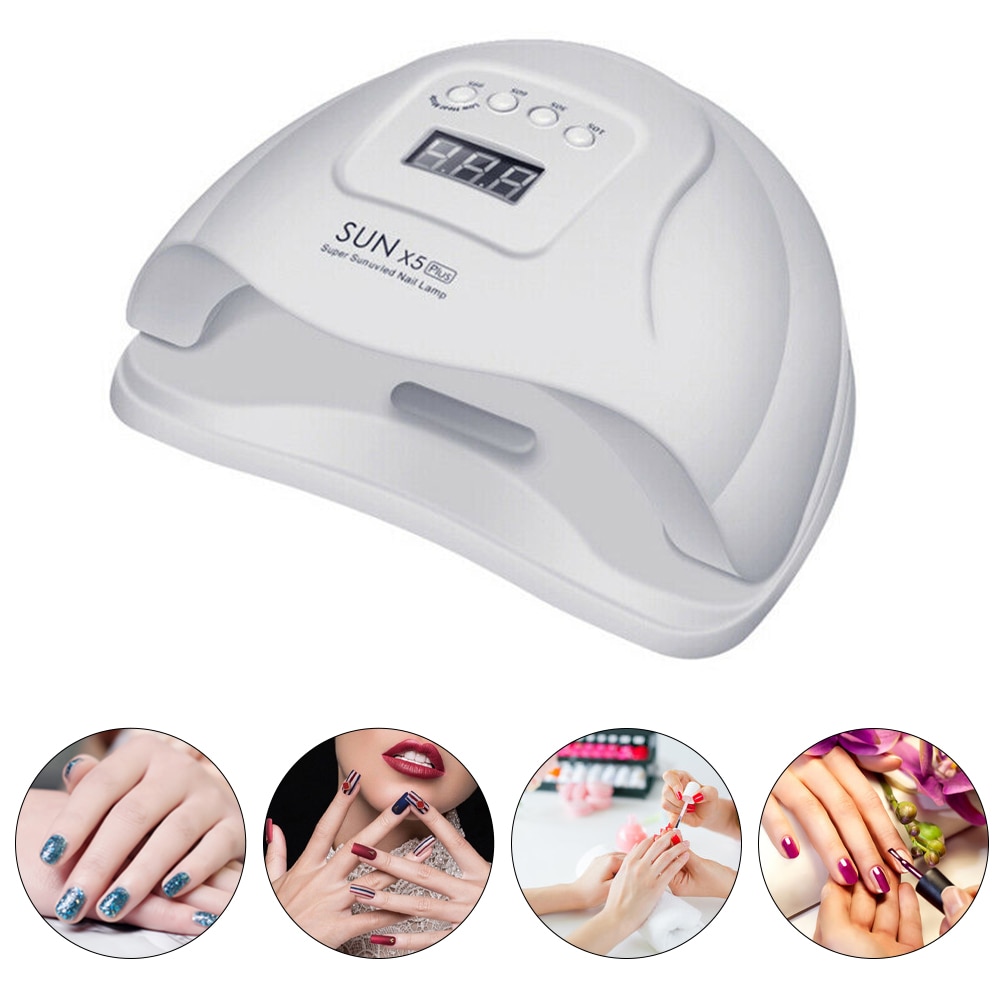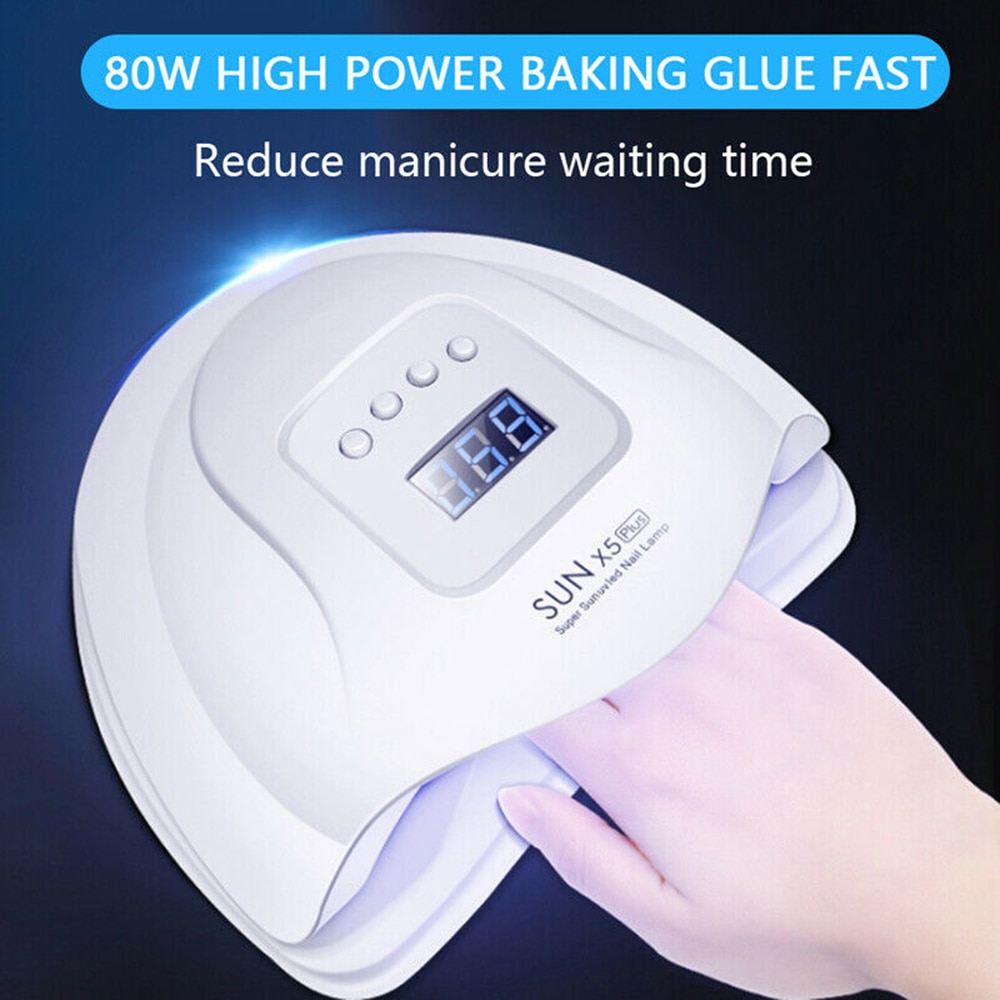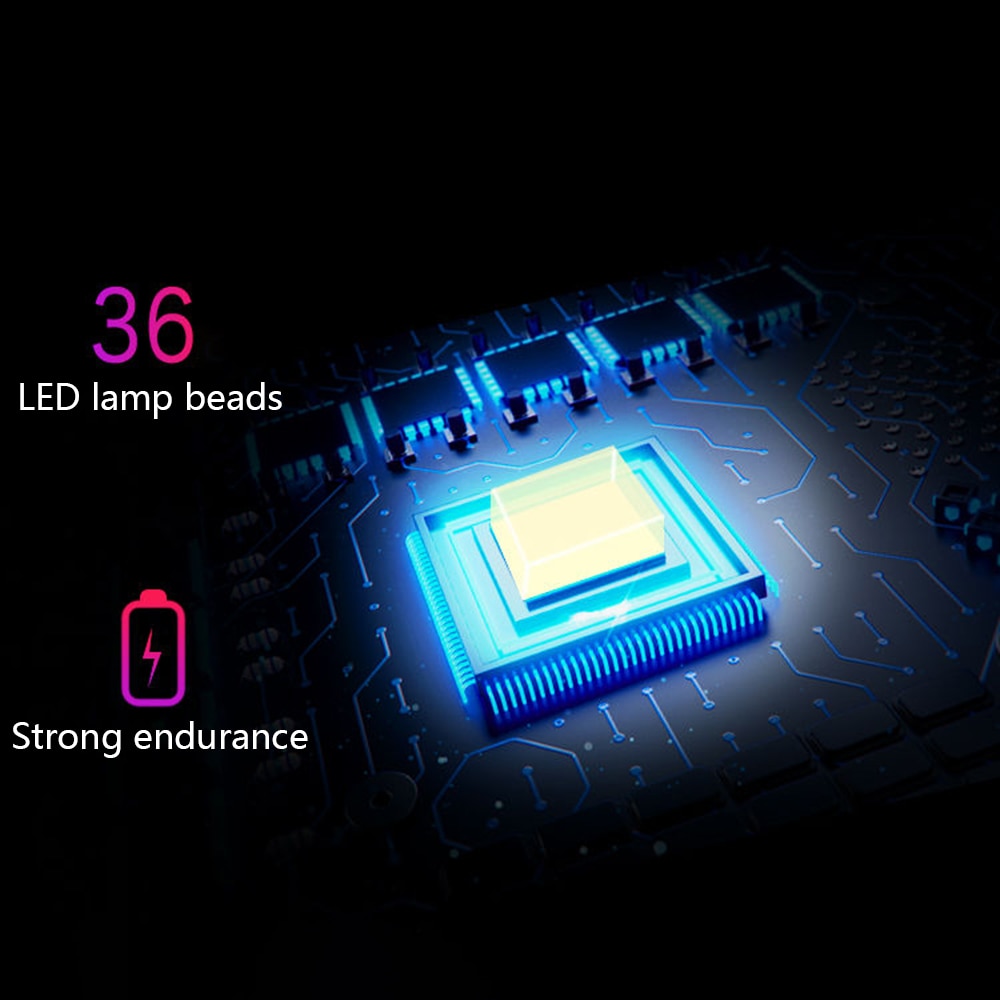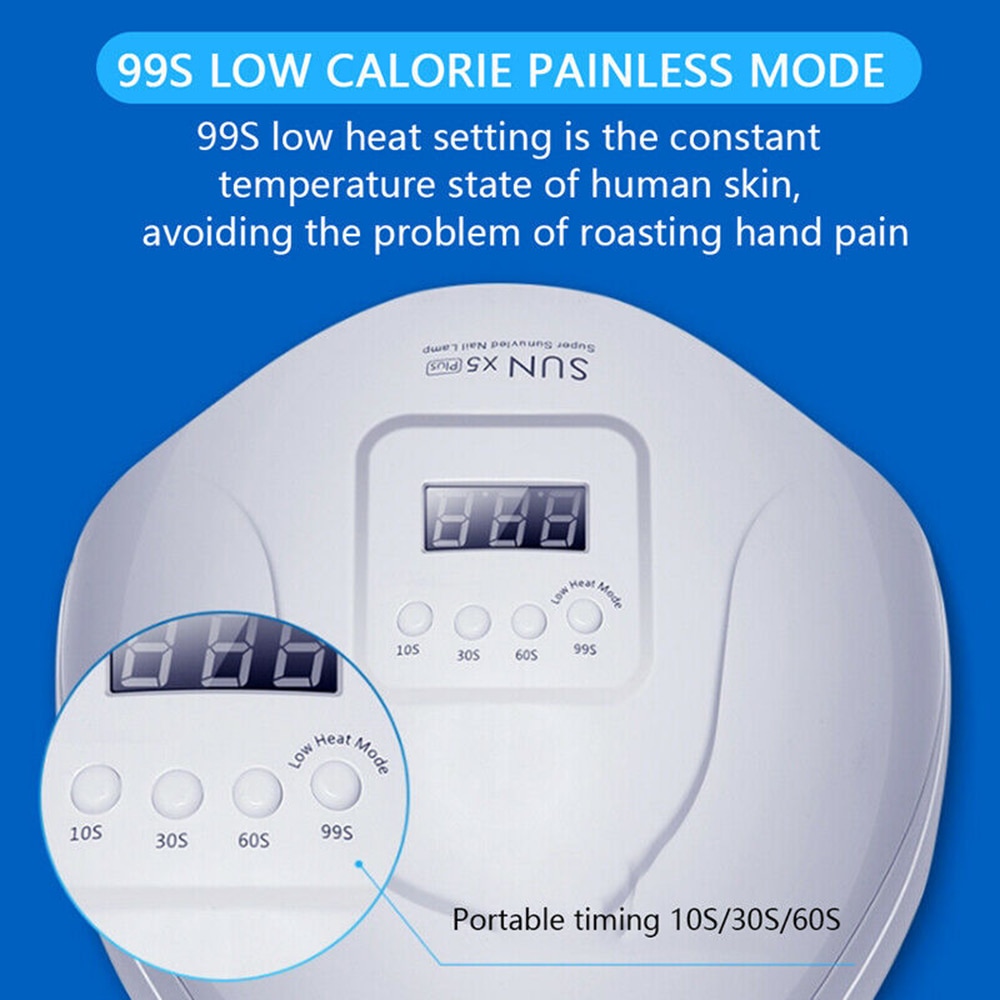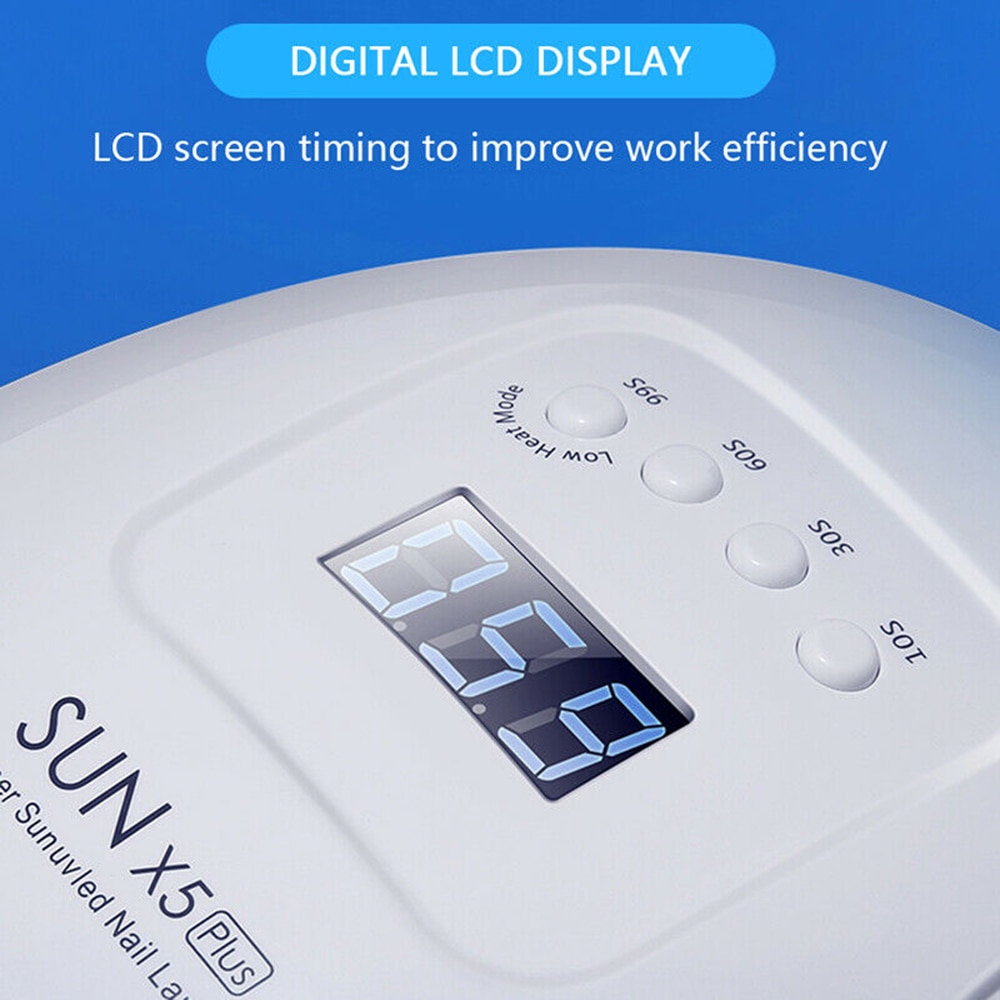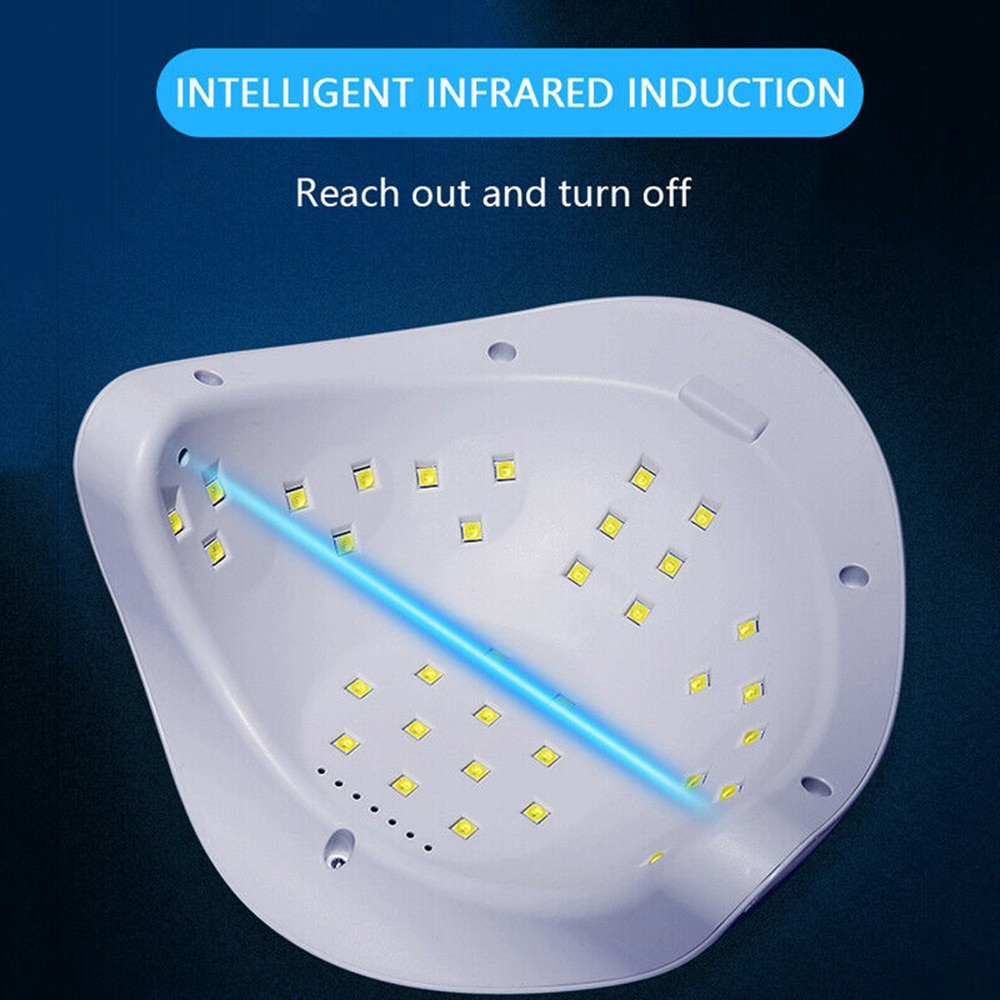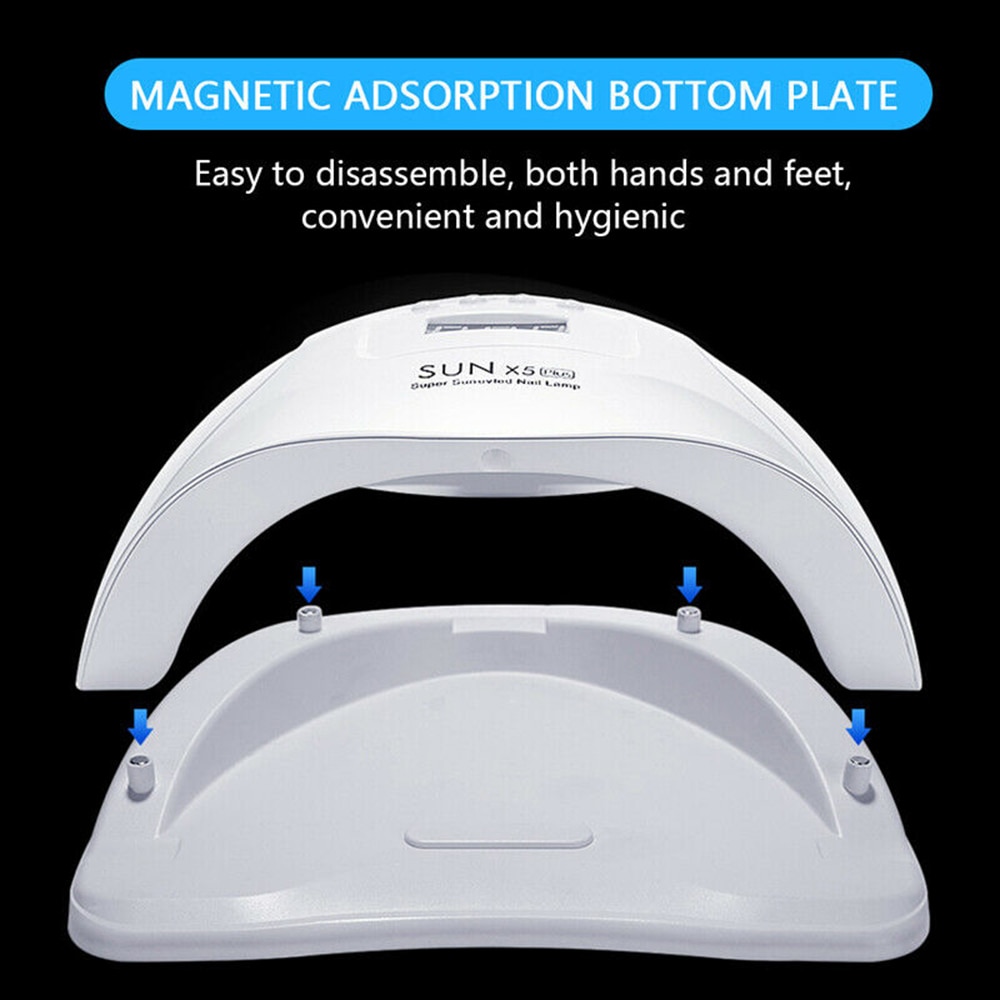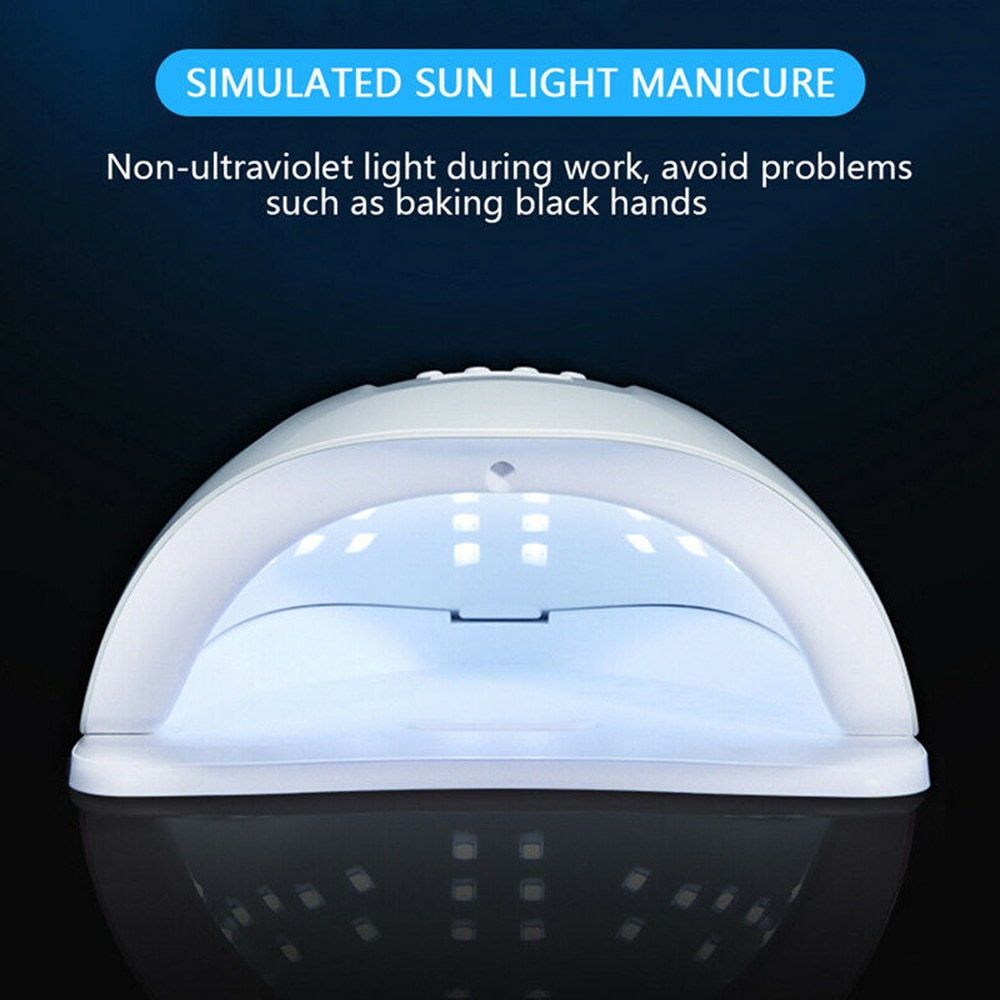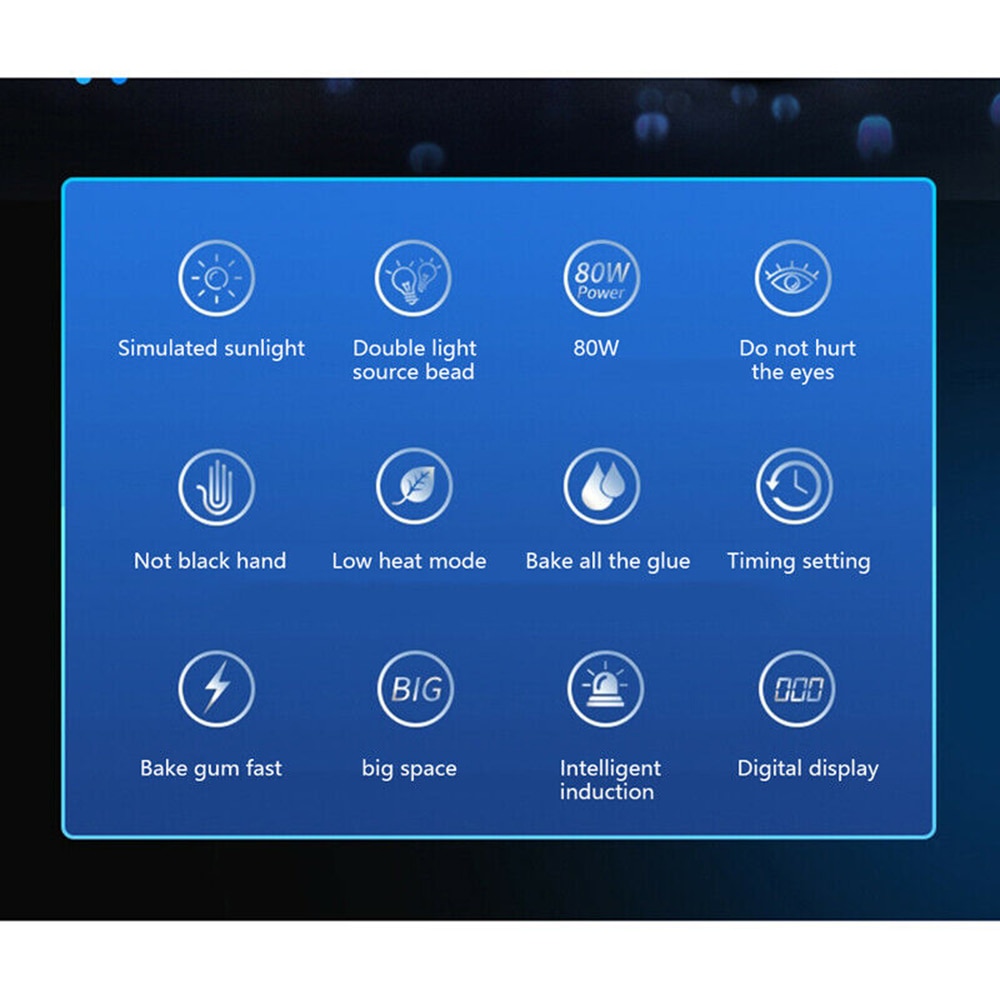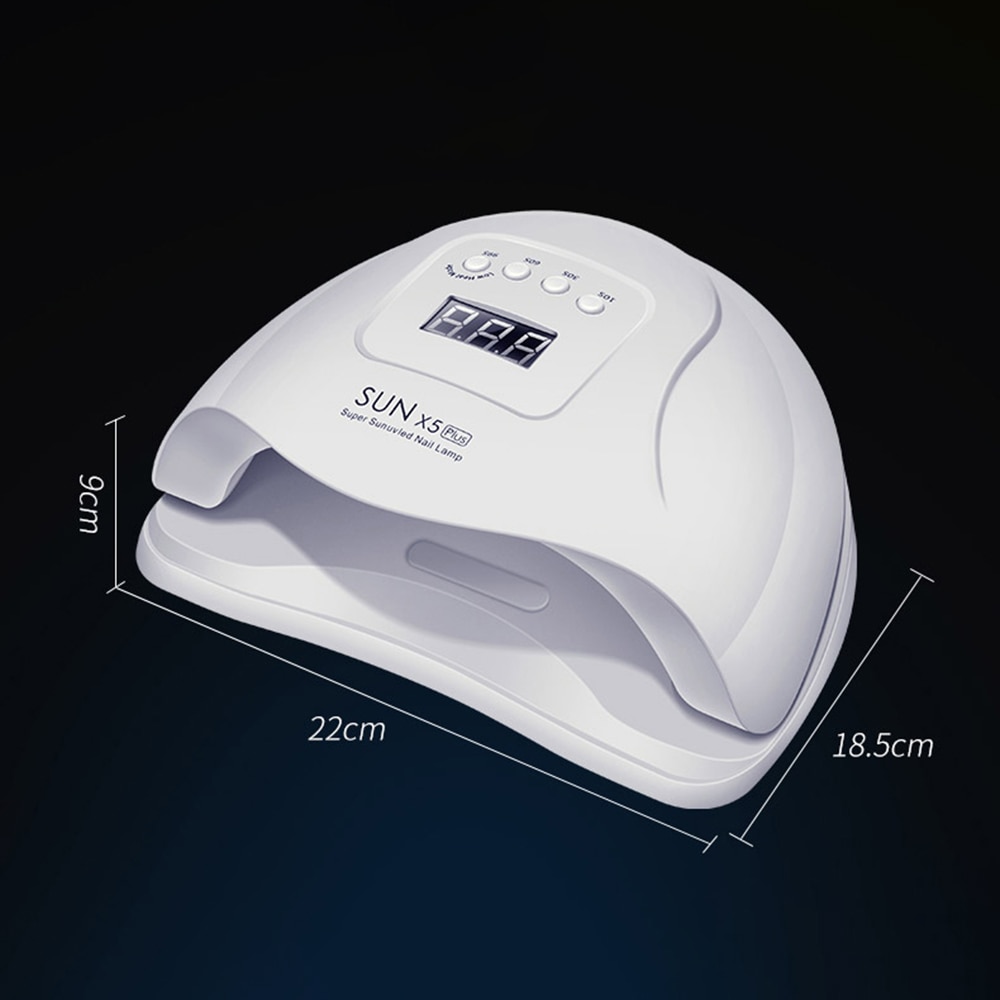 Optional 2:SUNX MAX 150W
Features:
– LCD screen display.
– Fashion and simple design.
– No irritating your hands, quickly bake glue.
– High quality light beads, 50000 hours long-lasting.
– 45 double Light Source lamp beads, automatic induction, super light beads for faster drying.
– Application: Designed for nail art, great for nail lovers. This is very convenient and practical for you. Suitable for professional use or home use.
Specifications:
Model: SUN-X5 MAX
Type: Nail Glue Dryer
Material: ABS
Color: White
Power: 150W
Voltage: AC 100~240V 50/60Hz
Light Beads QTY: 45 (38 LEDs + 7 UV)
Light Source: UV+LED
Timing: 10s 30s 60s 99s
Suitable Gel Type: UV Gel /LED Gel /Builder Gel All Types Gel
Plug: EU/US/UK/AU (We will sent with an adapter according to your country)
Package Included:
1 * 150W UV/LED Nail Dryer
1 * Adapter
1 * User Manual
1 * Box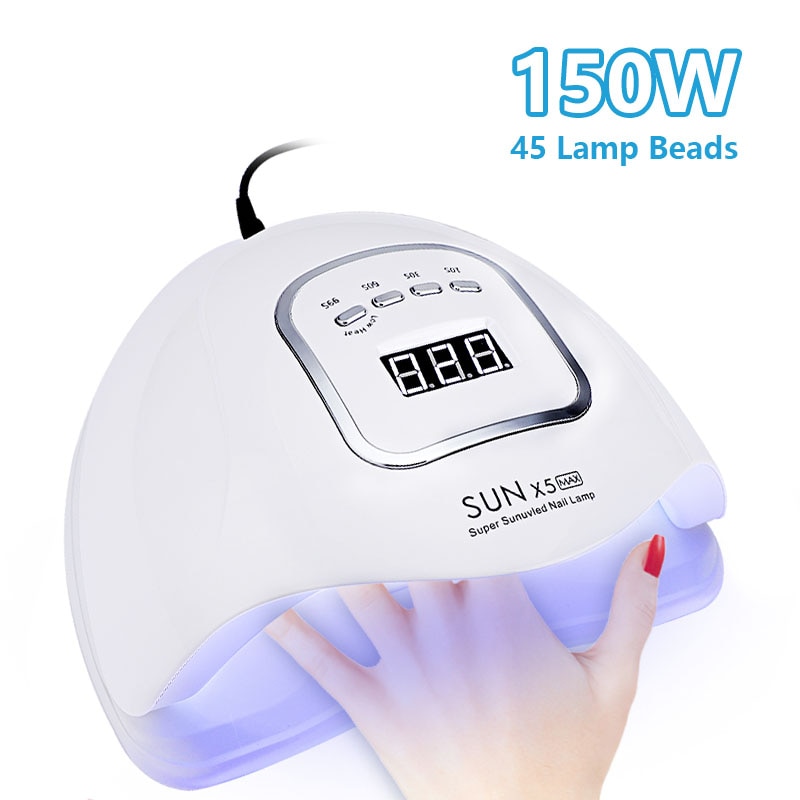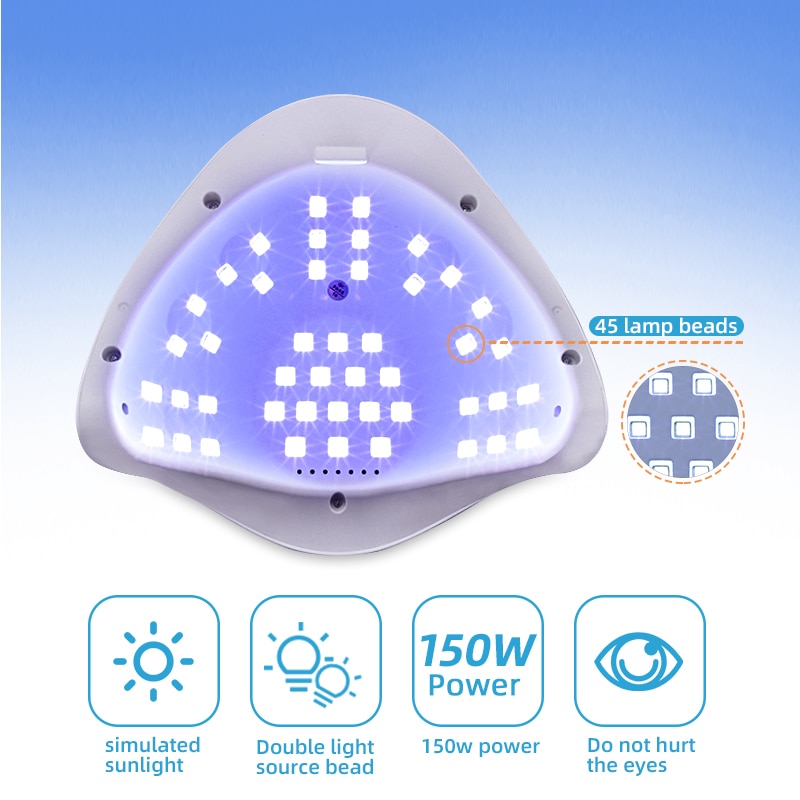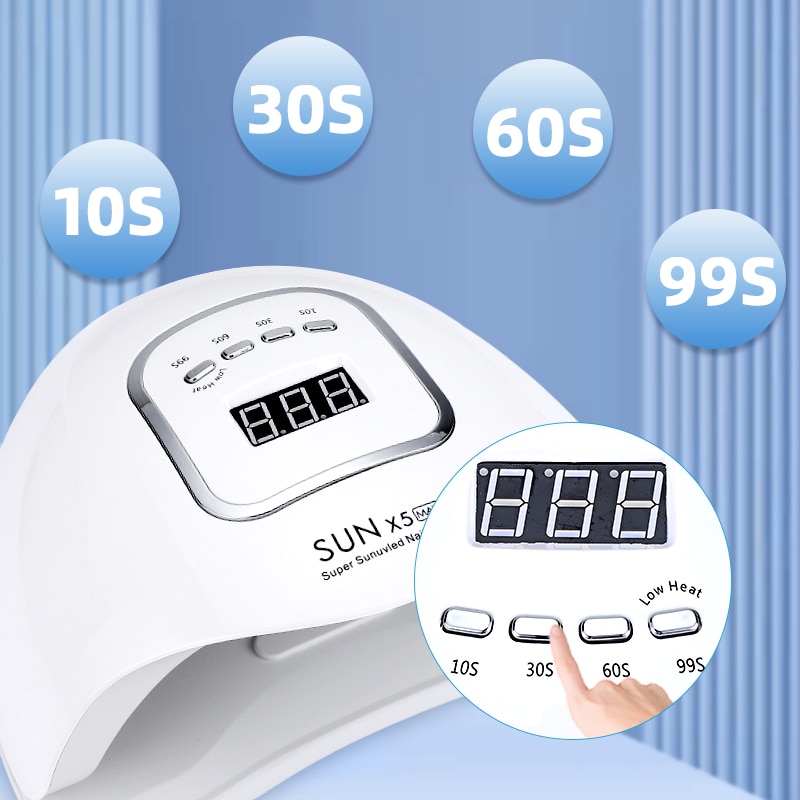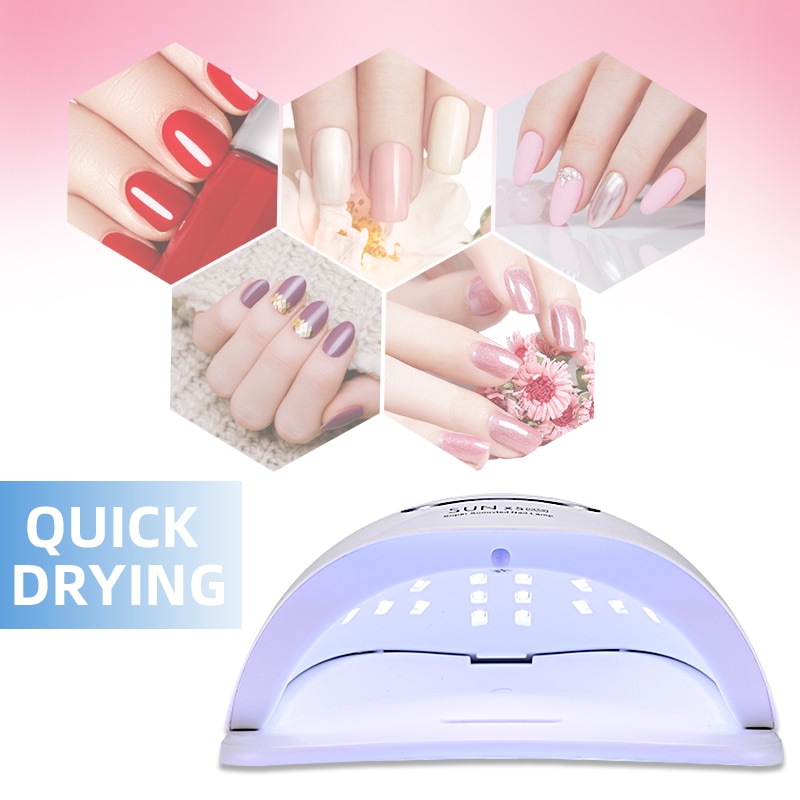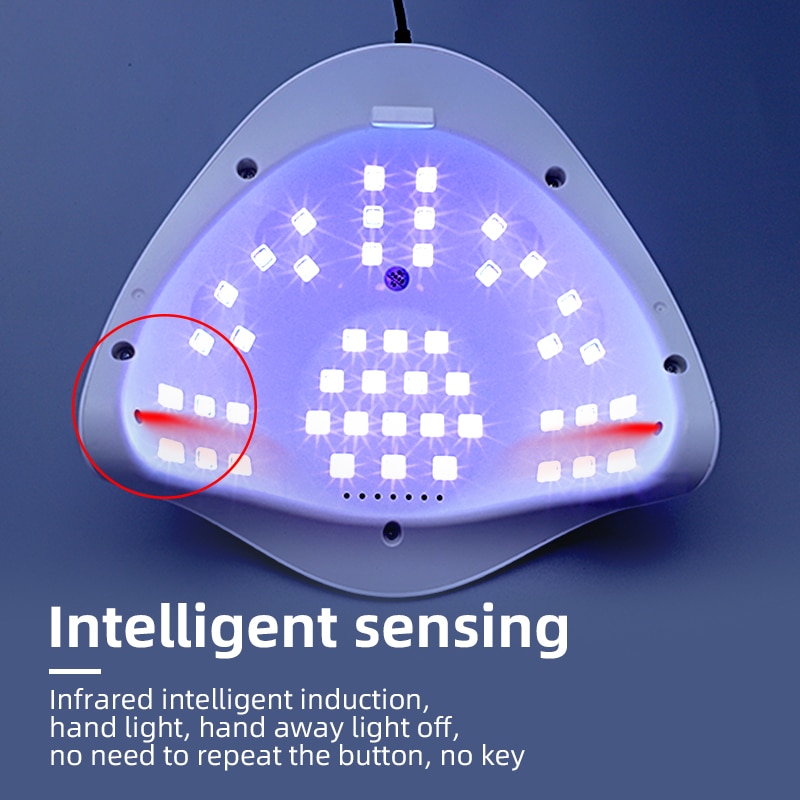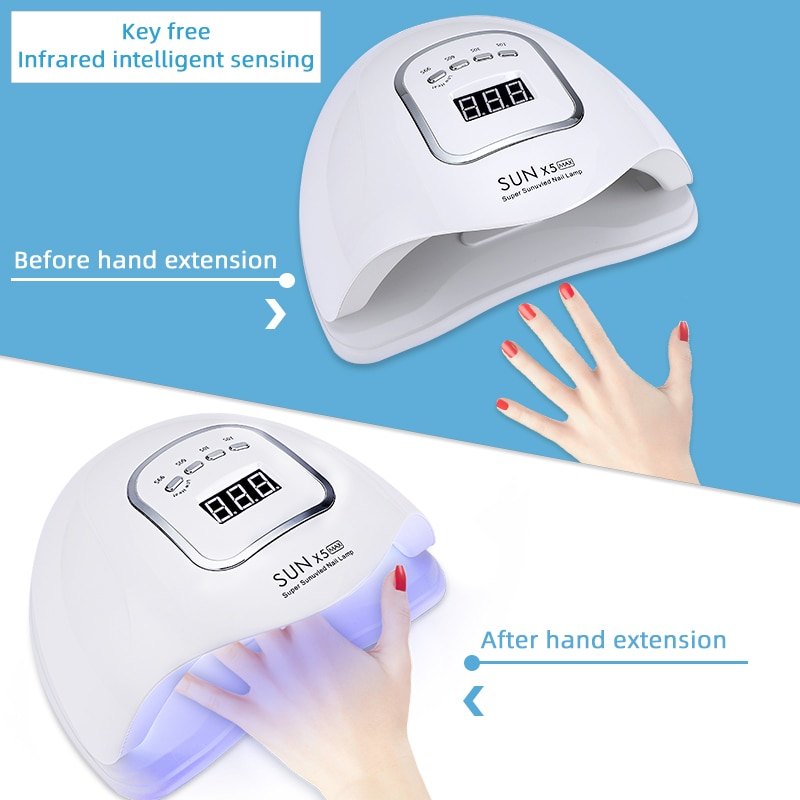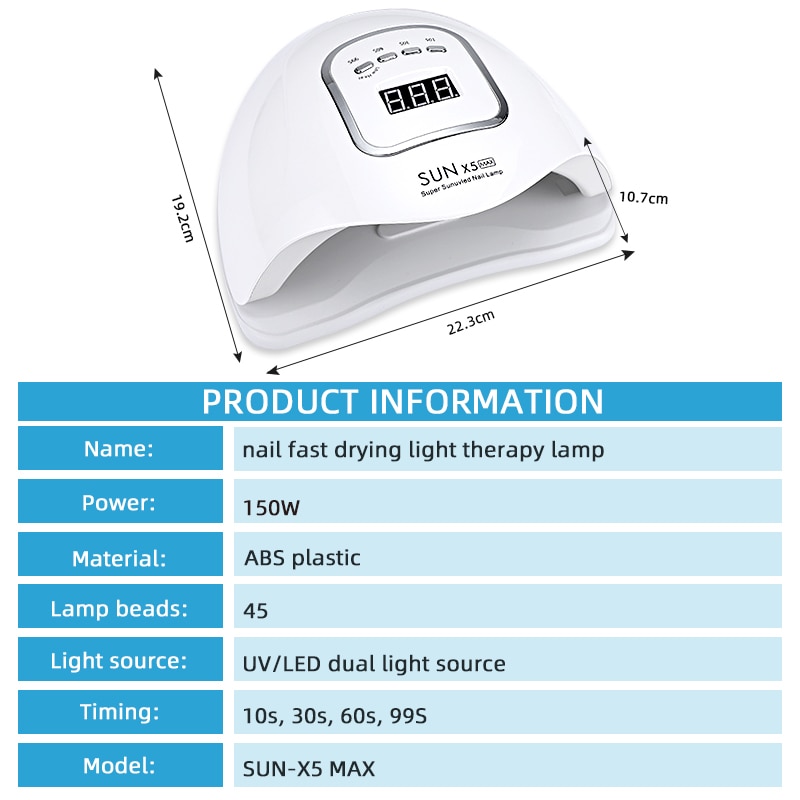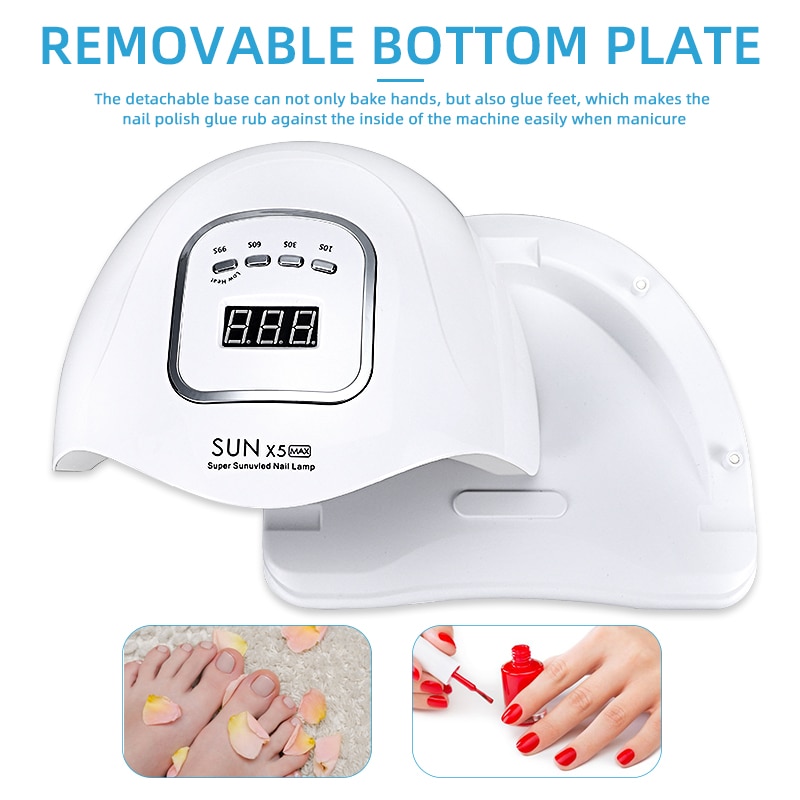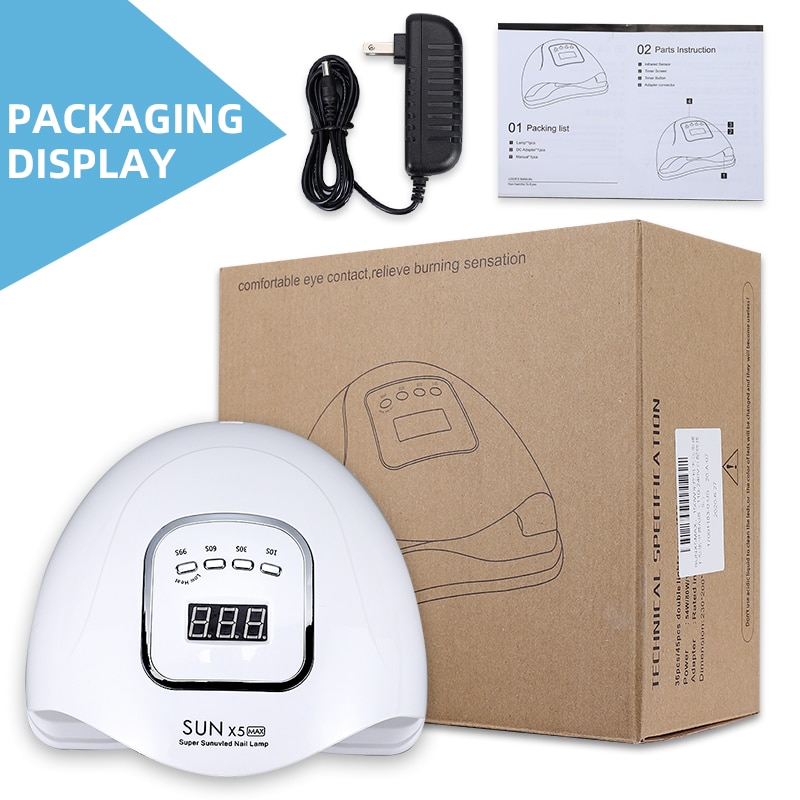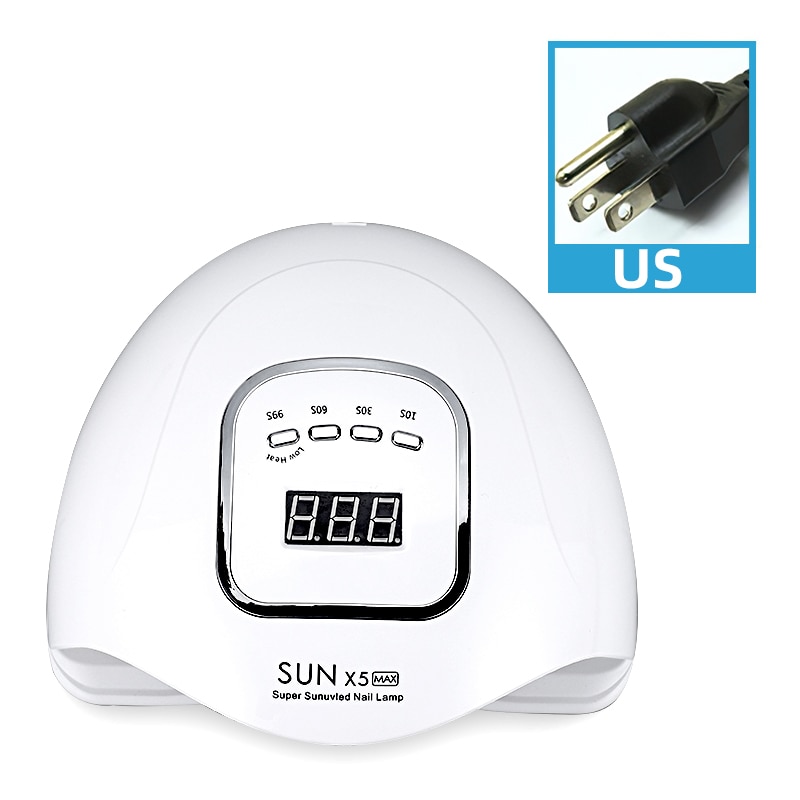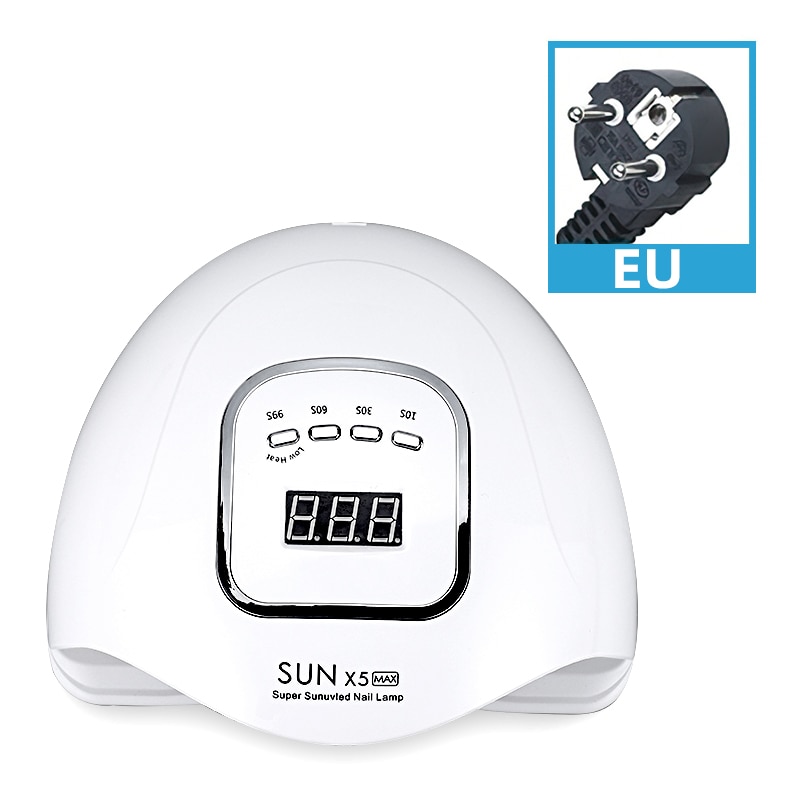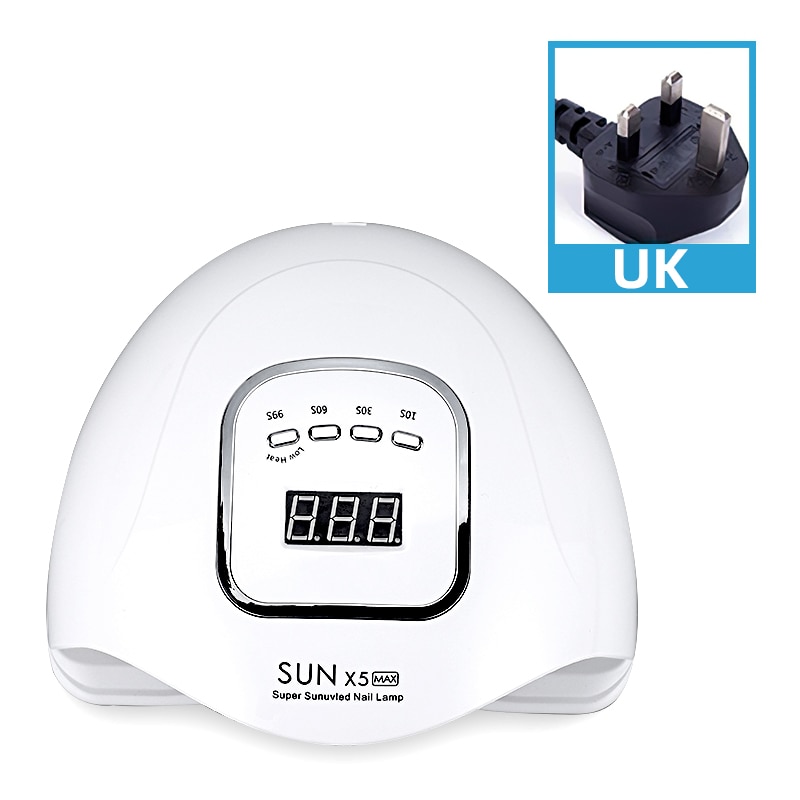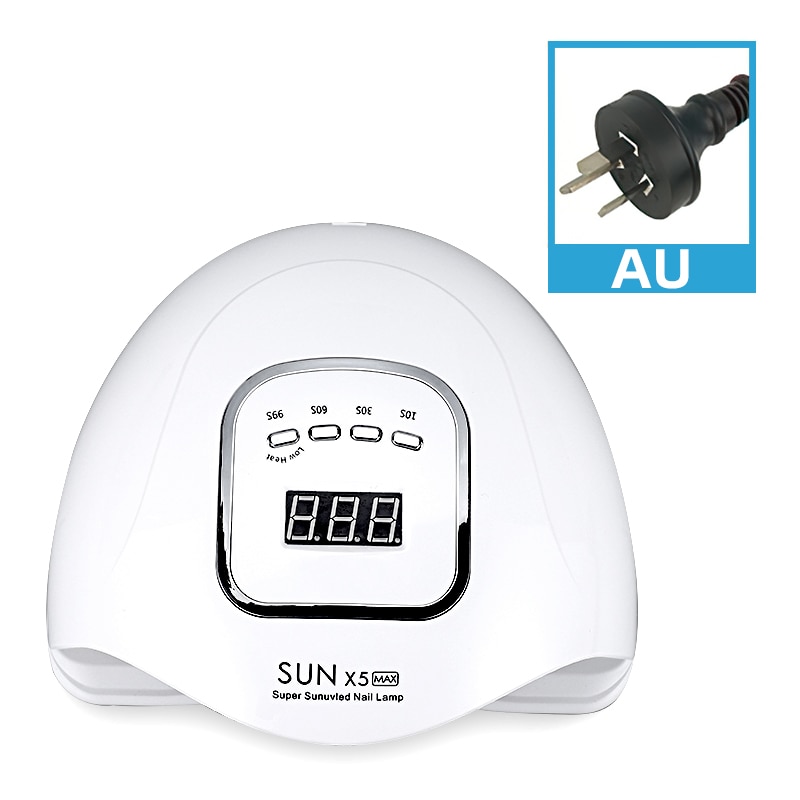 Optional 3:SUNX5 MAX 120W
Feature:
1. Portable and fashionable design
2. 120W power and 45pcs UV LED double light sources lamp bulbs around the hand, fast curing all kinds of nail gel.
3. UV LED sunlight lamp, non-painful, protect eyes and hands 
4. Infrared sensing, when you put your hand in, the lamp autometically switched on
5. Smart timing, easy to use. 10s, 30s, 60s  99s for choices
Specification:
Type: LED UV lamp
Material: ABS
Fit Gel Type: All of type Gel nail polish
Input: 100-240V 50/60Hz
Output: DC 12V
Wave Length: 365nm + 405nm
Power:120W
Package List:
1 * 120W Nail Lamp
1 * Power Supply
1 * User Manual
1 * Box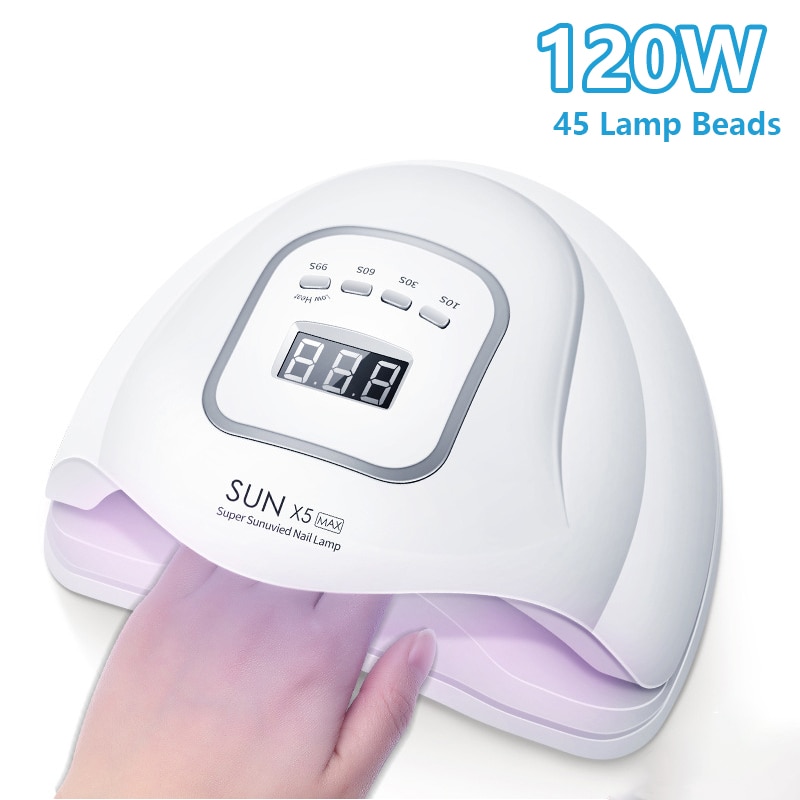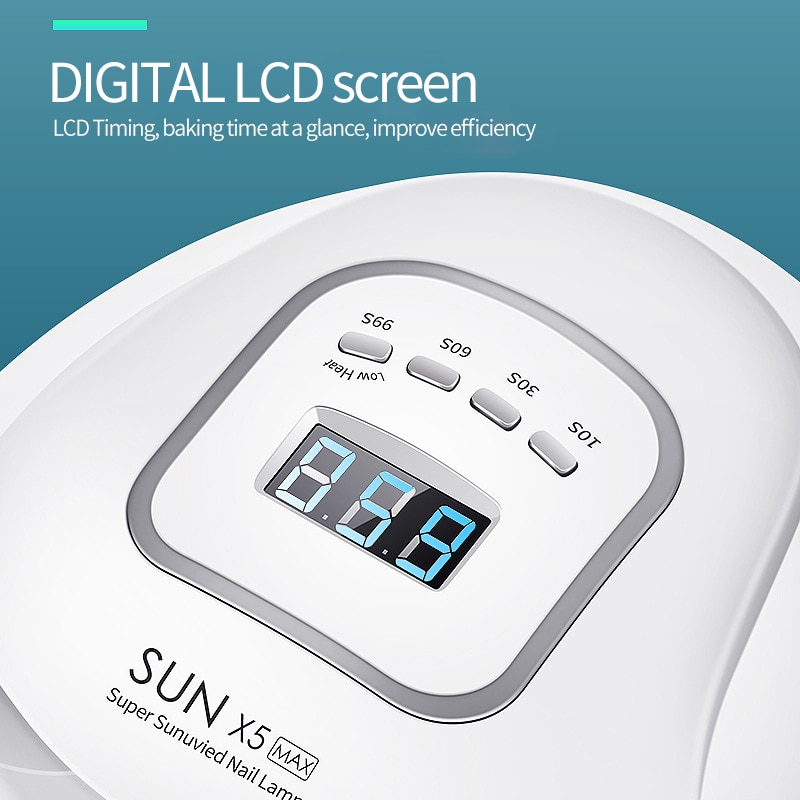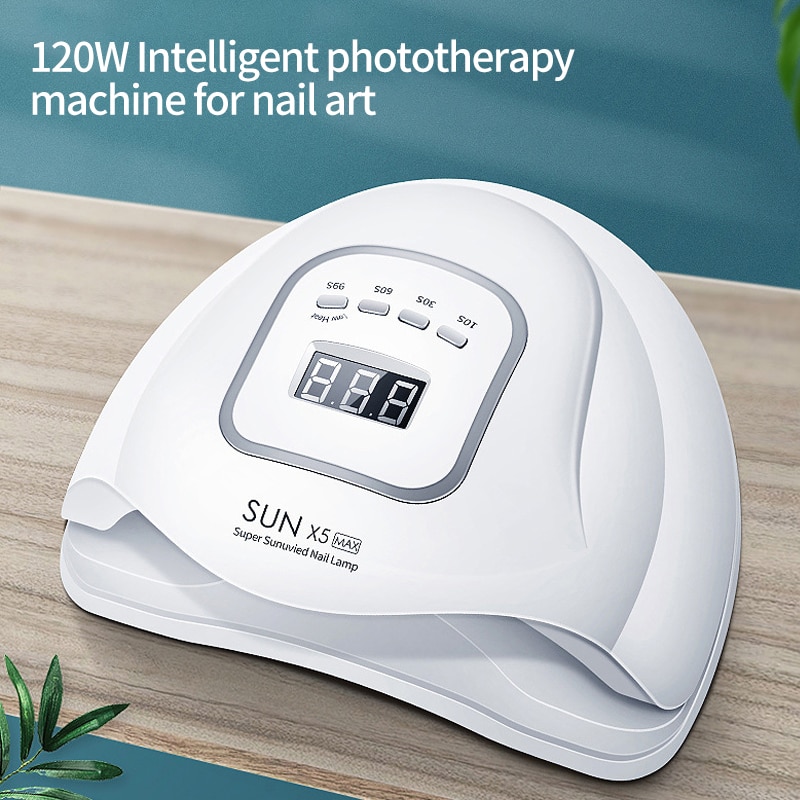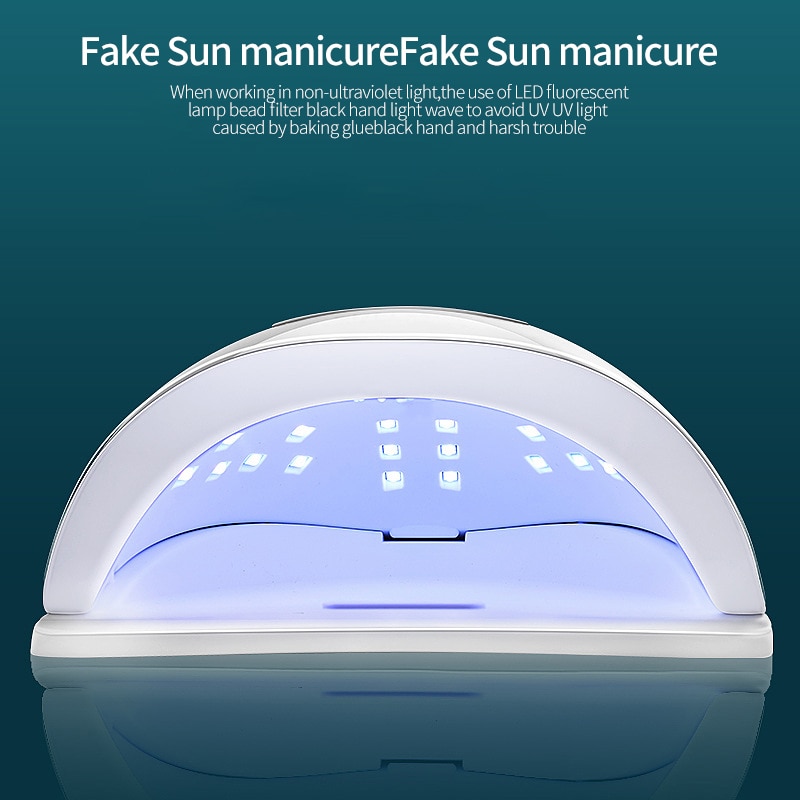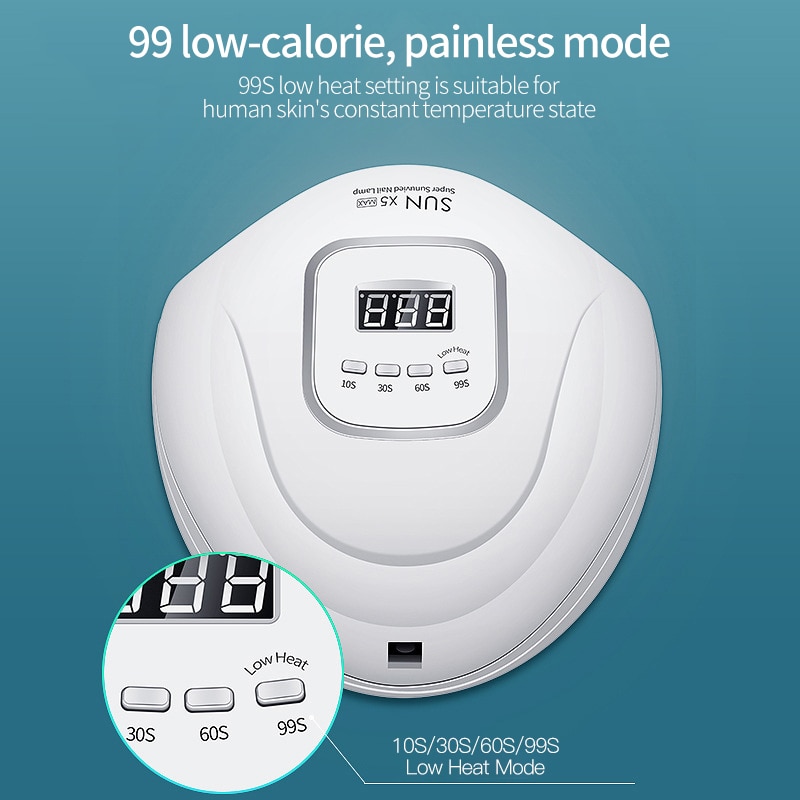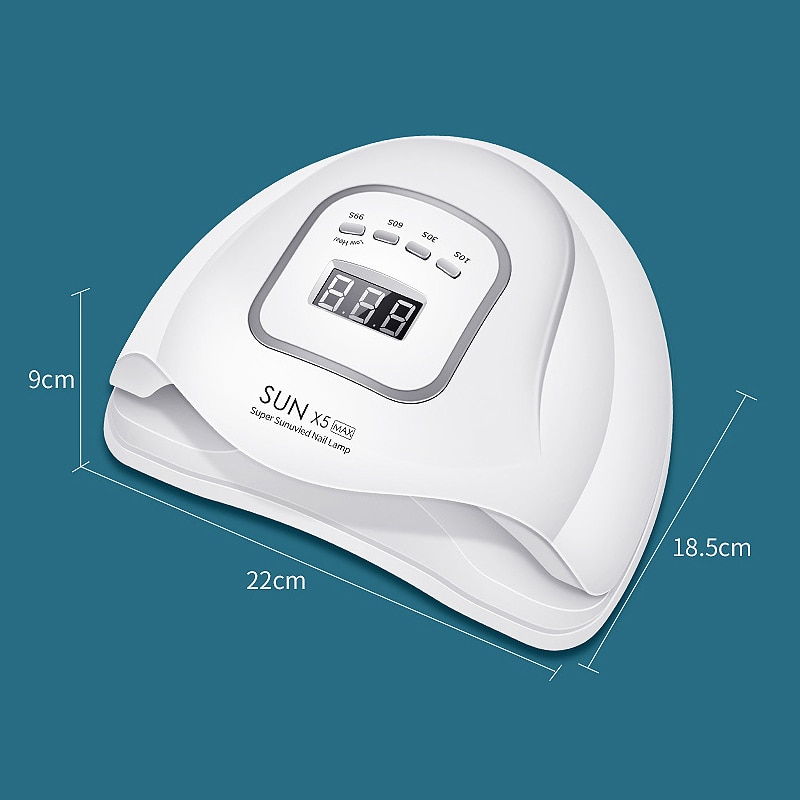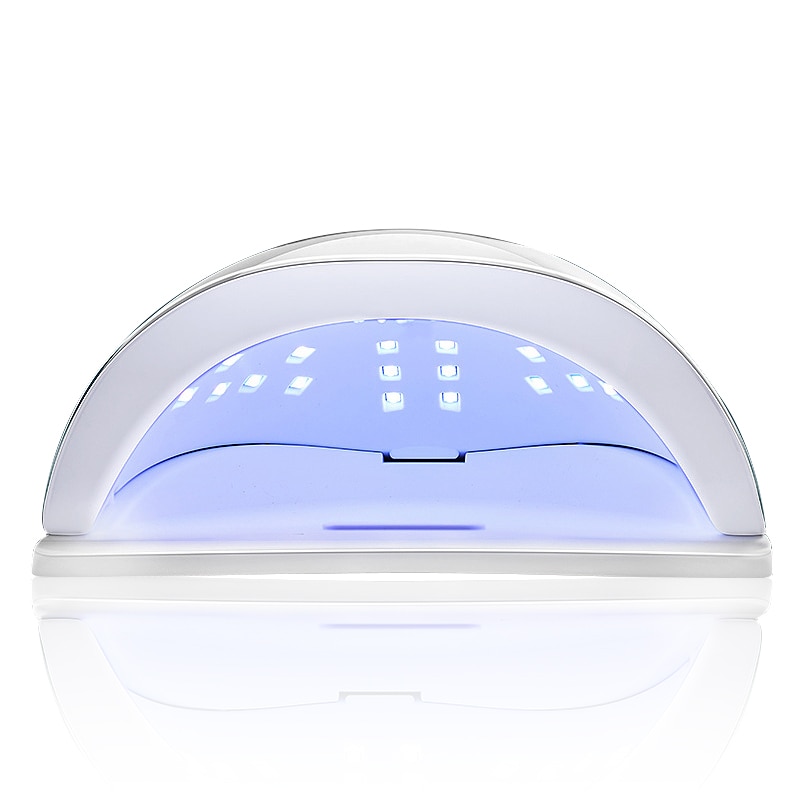 Optional 4:SUNX9 Plus 48W
Product description
48W LED Nail Lamp, DIOZO Portable Nail Dryer Manicure / Pedicure curing lamp with 30s 60s 99s Timer Plus Anti-UV Gloves Gift Suitable for Fingernails and Toenails, Home and Salon
Features:
1. Excellent curing effect: Our nail lamp has 365nm + 405nm in waveband, it would help to cure gel nail polish uniformly and won't hurt your skin. Meanwhile 48w quick-drying nail dryer can shorten your curing time by 50% or overheat than other outdated dryers.
2. Multifunctional curing way: With 3 modes 30s, 60s, 99s to cure your gel nails, it can completely solve the paining problem with 99S painless mode.
3. Displayed time function: Curing time is easy to control.
4. Portable and light: Our nail dryer is made of ABS plastic, light weight and anti-break.
5. The product has passed CE.ROHS.FCC certification.
Specifications:
Model: SUN X9plus
Life span: 50000h
Maximum power: 48 watts
Net weight: 227g
Number of beads: 21PCS
Packing size: 217*138*79mm
Light source band: 365+ 405nm/UV LED
Material: ABS
Pacakge List:
1 x 48W LED nail lamp
1 x nail lamp plug
1 x instruction manual
1 x anti-UV gloves (gift)
1 x nail files (gift)
1 x Box
Notice:
As a kind of evaporable product, nail polish can not be dried by any nail lamp, so please do not use our product to dry nail polish!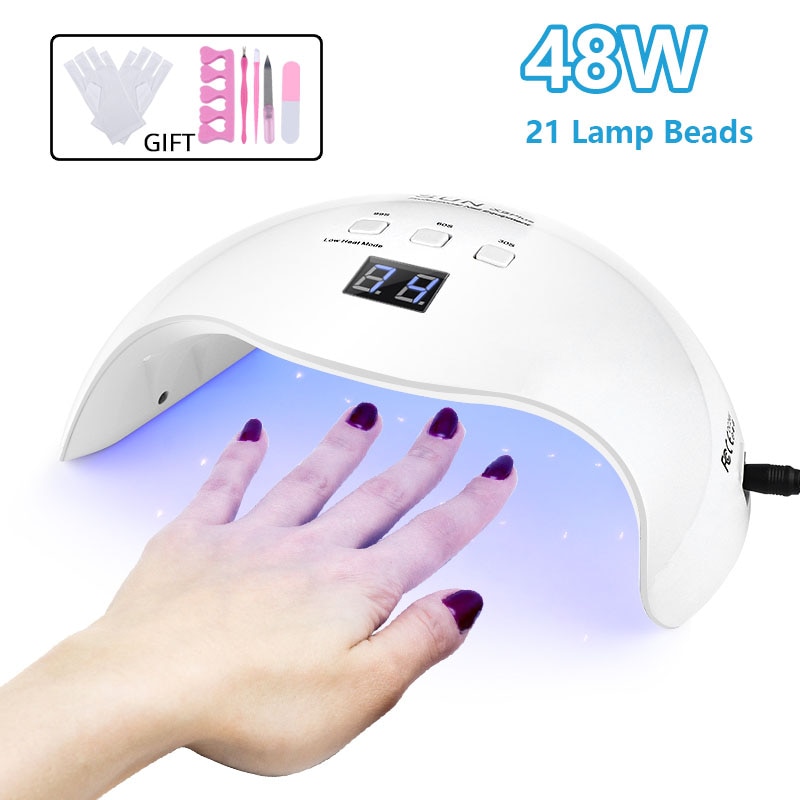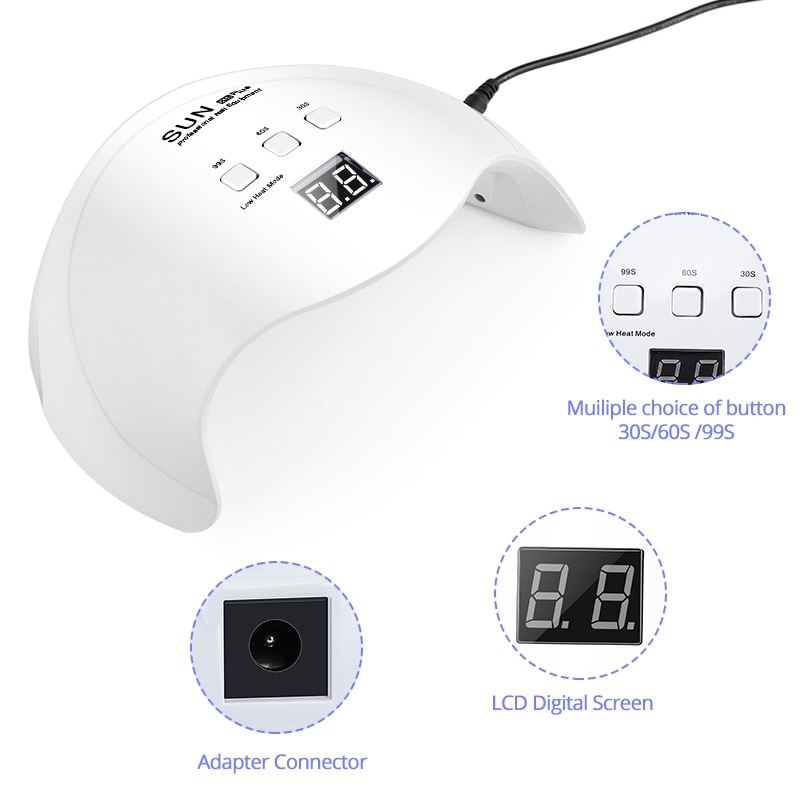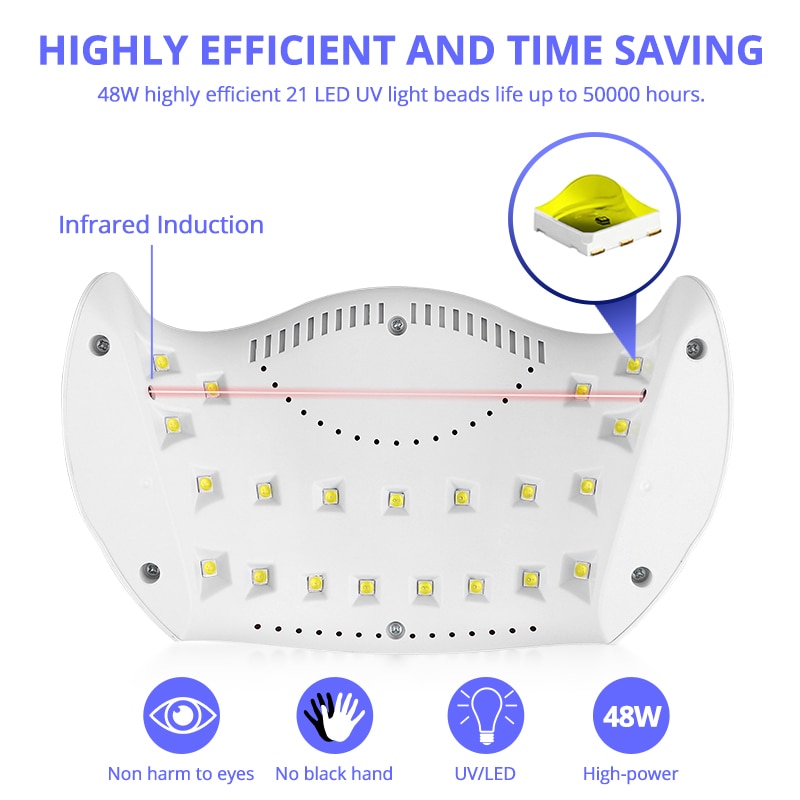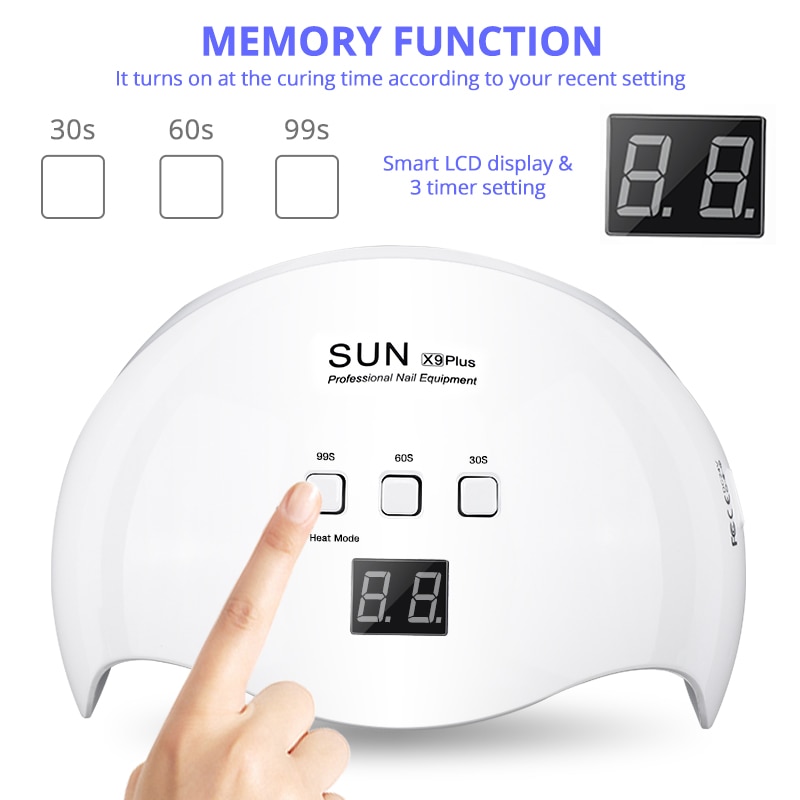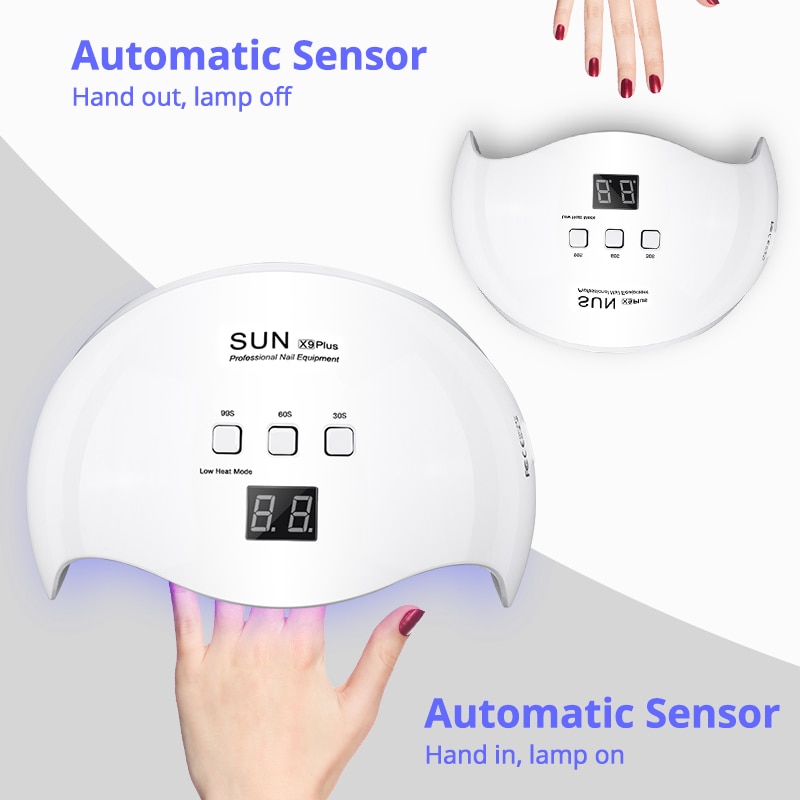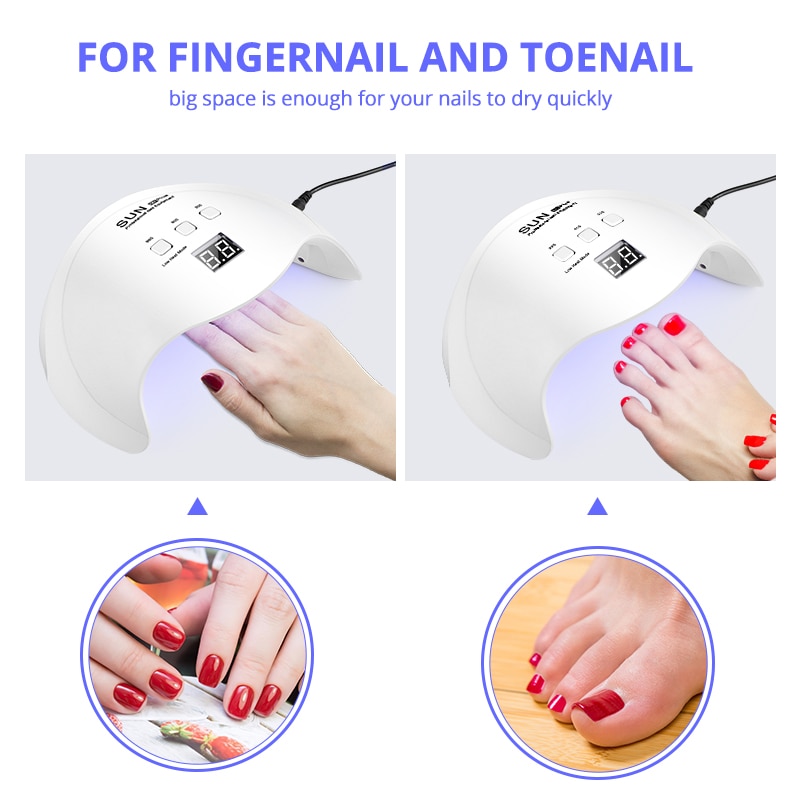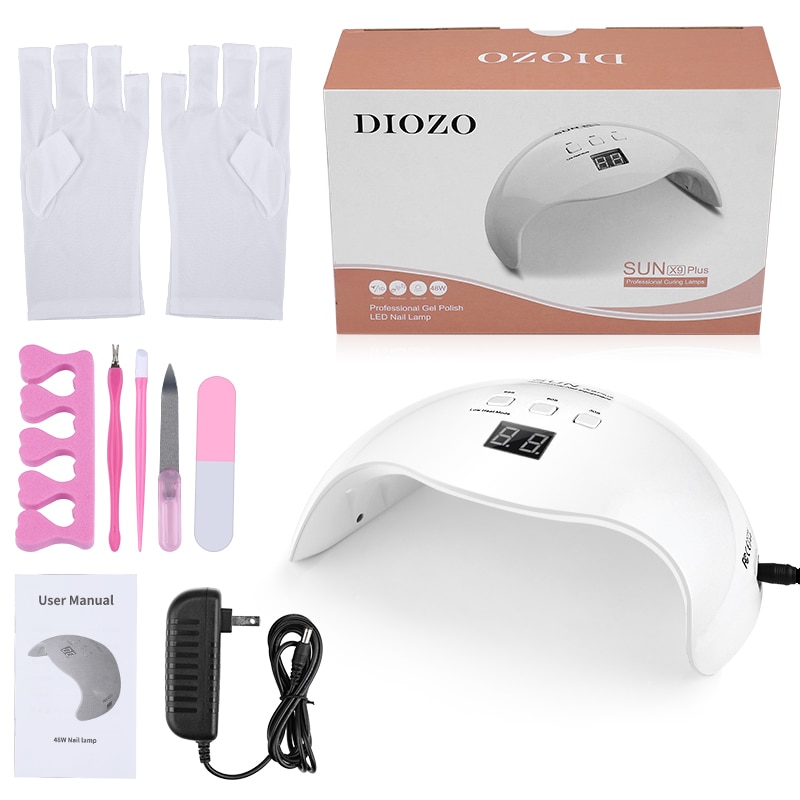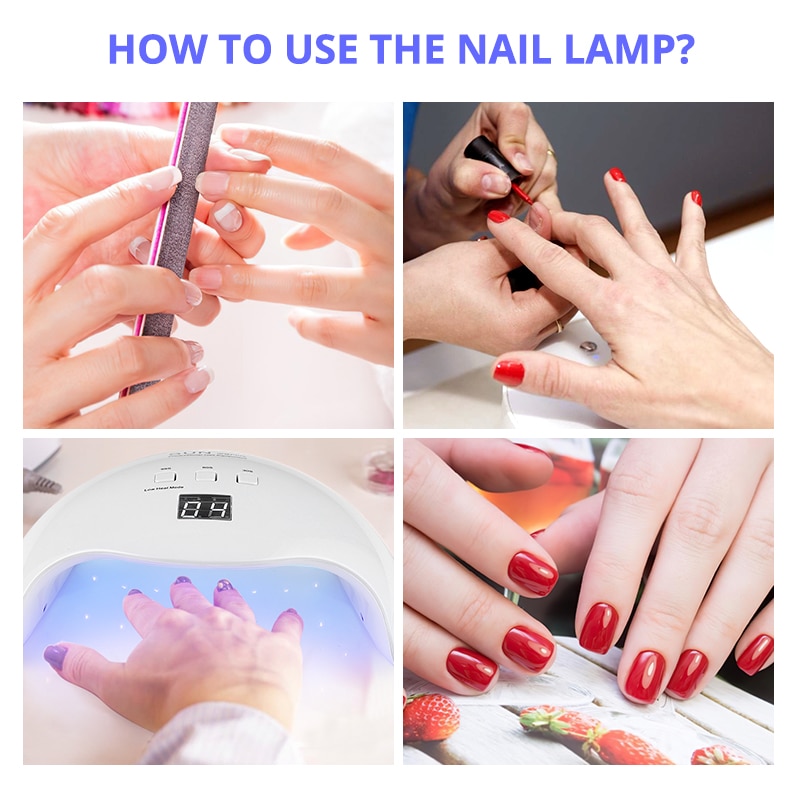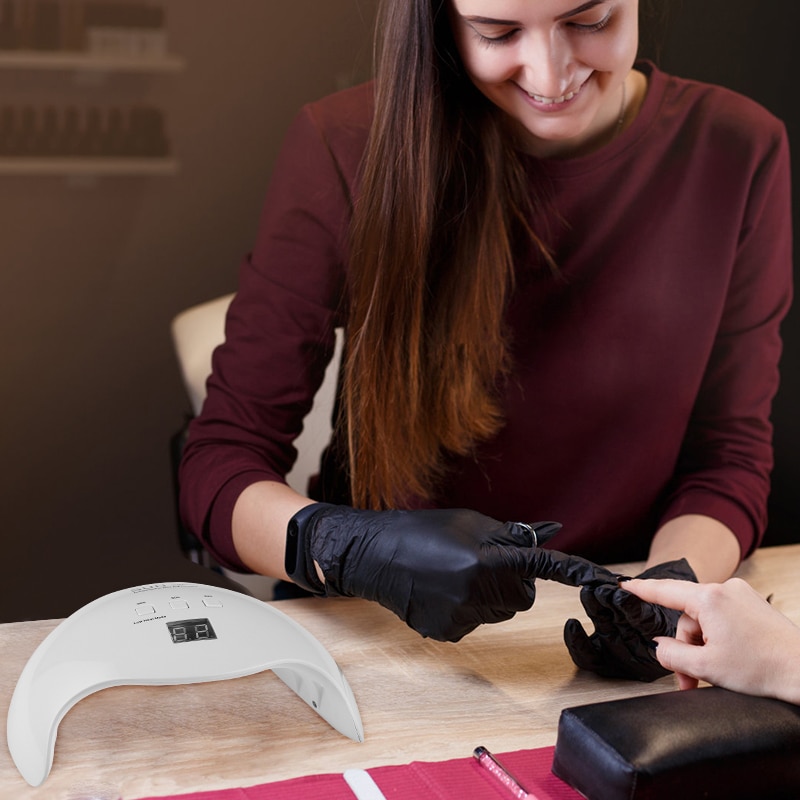 Optional 5:SUNX3 24W
​Features:
1.Portable and Light: This nail lamp is made of ABS material, the weight of the body is as light as an iPhoneX, portable, light and not easy to break. It's a perfect pocket nail lamp for school, office, home use, and travel.
2.Four timing curing ways: With 4 modes 15S,30S,45S,60S to cure your gel nail,such as UV/LED nail gel, shellac, extender gel, etc. It also equipped with a 99s painless mode, it perfectly solves the problem of hand pain during roasting.
3.Equipped with a hidden display: it automatically lights up when power is on, and it has a pretty look to help you to master the roasting time of the gel.
4.Excellent curing effect:This nail lamp is 365nm or 405nm in wavelength,which can help you curing evenly,but not hurt the skin.24W Low Heat setting,which can solve the discomfort of hand when you curing gel nail.
5.The product has passed CE.ROHS.FCC certification.
Specifications:
Model: SUN X3
Lifespan: 50000h
Maximum power: 24 watts
Net weight: 147g
Number of beads: 12PCS
Voltage: 100-240V AC, 50 / 60Hz
Light source band: 365+ 405nm/UV LED
Packing size: 198*133*85mm
Material: ABS
Package List:
1 x 24W LED nail lamp
1 x nail lamp plug
1 x instruction manual
1 x nail files (gift)
1 x Box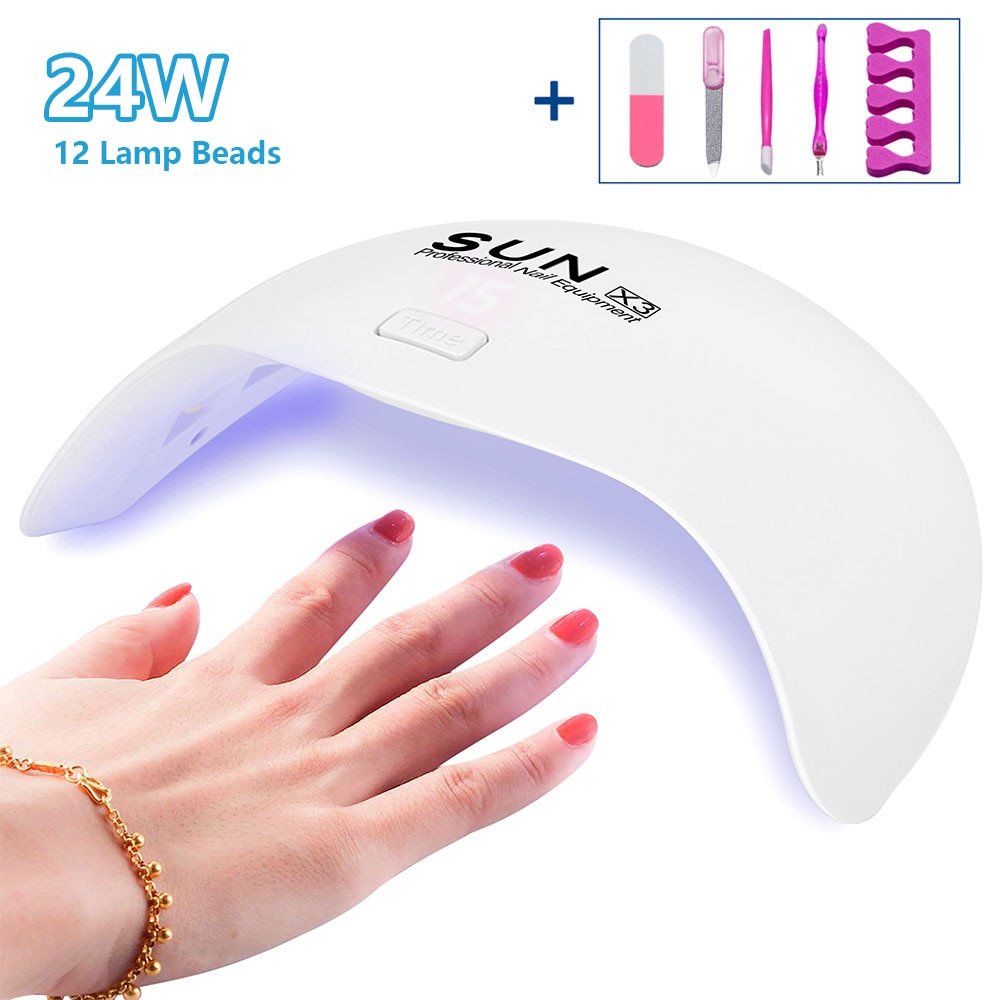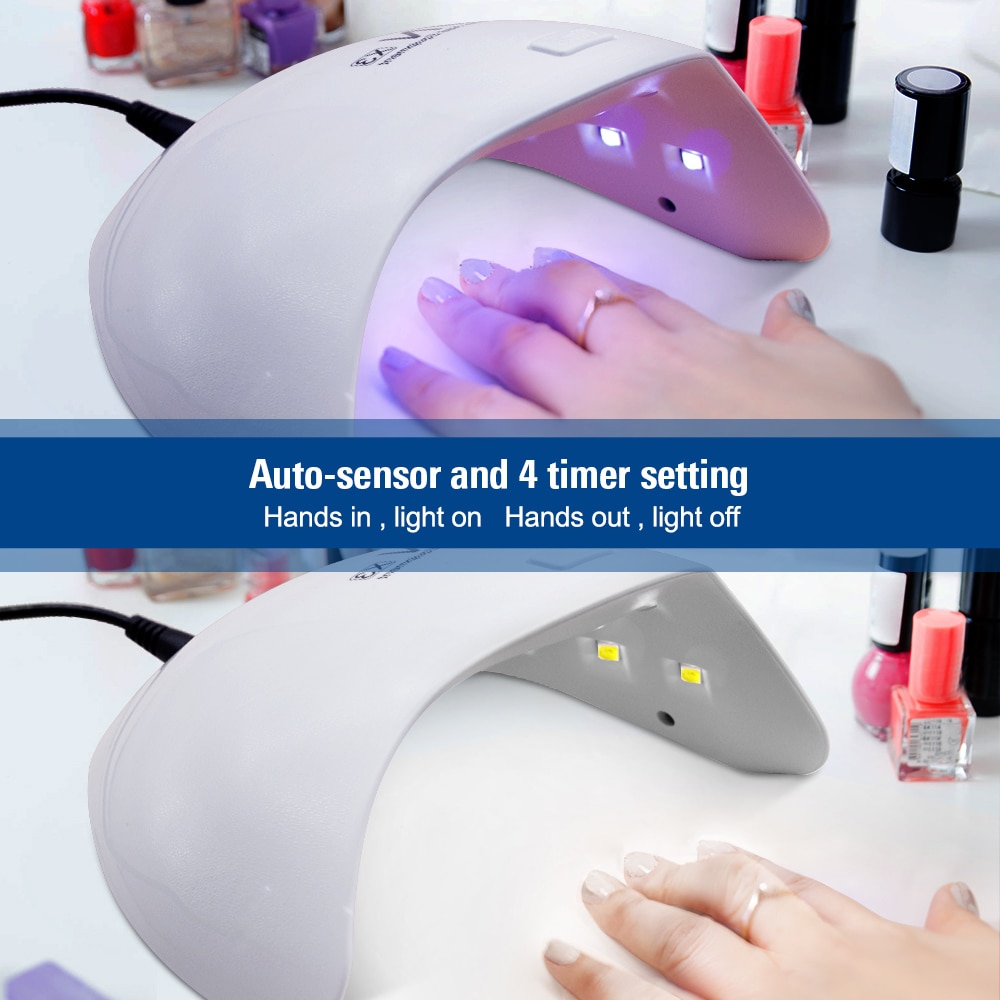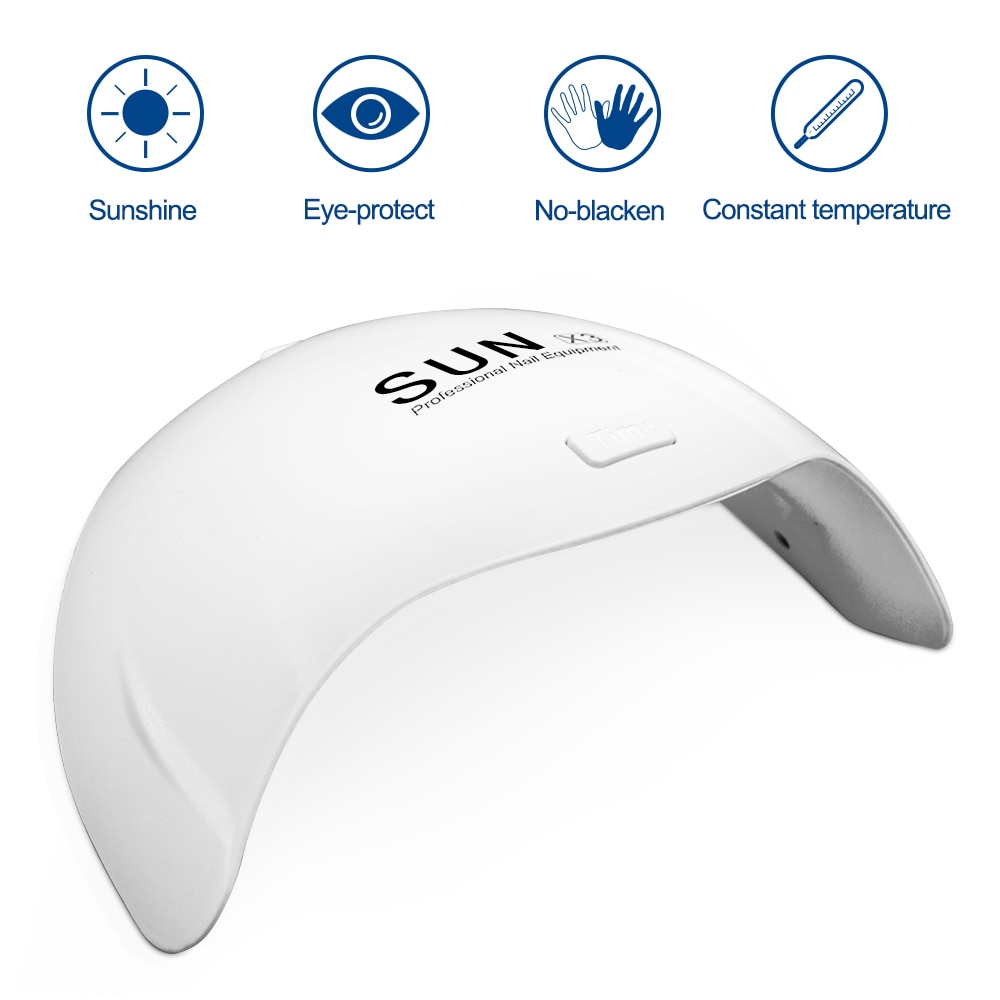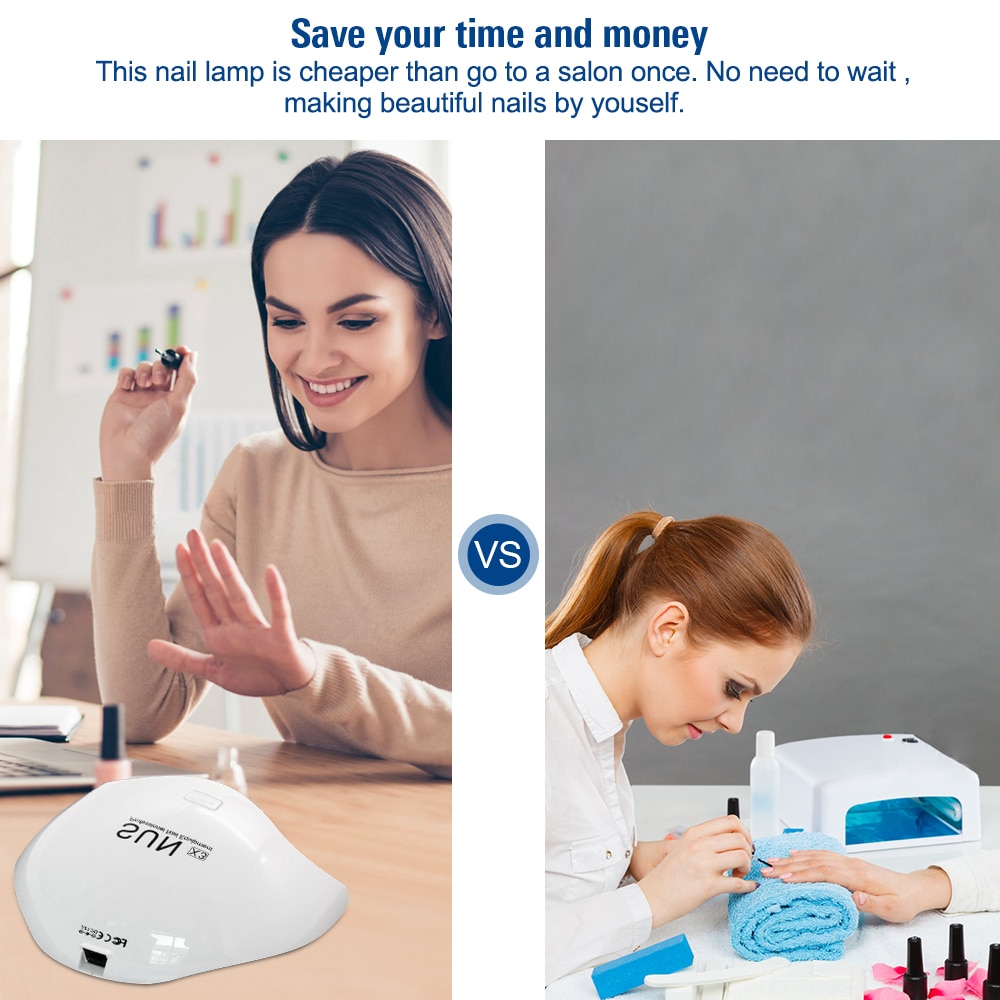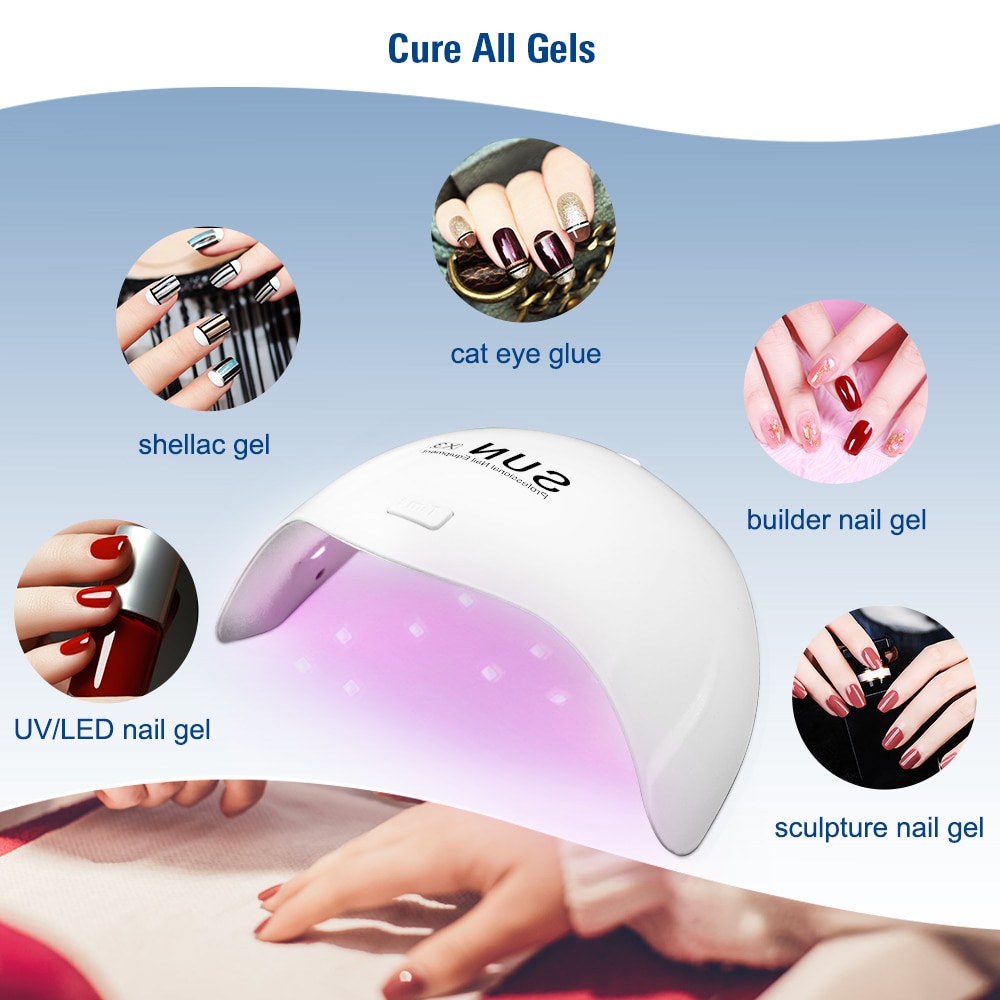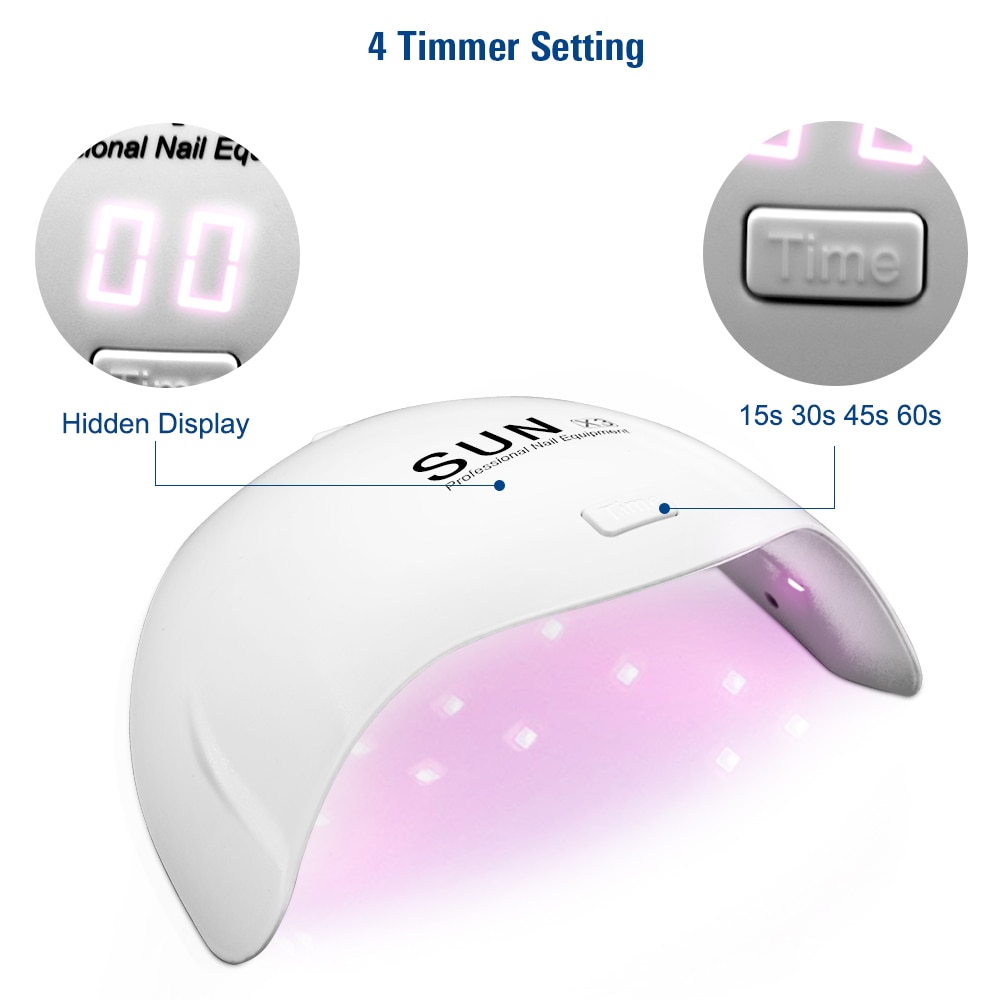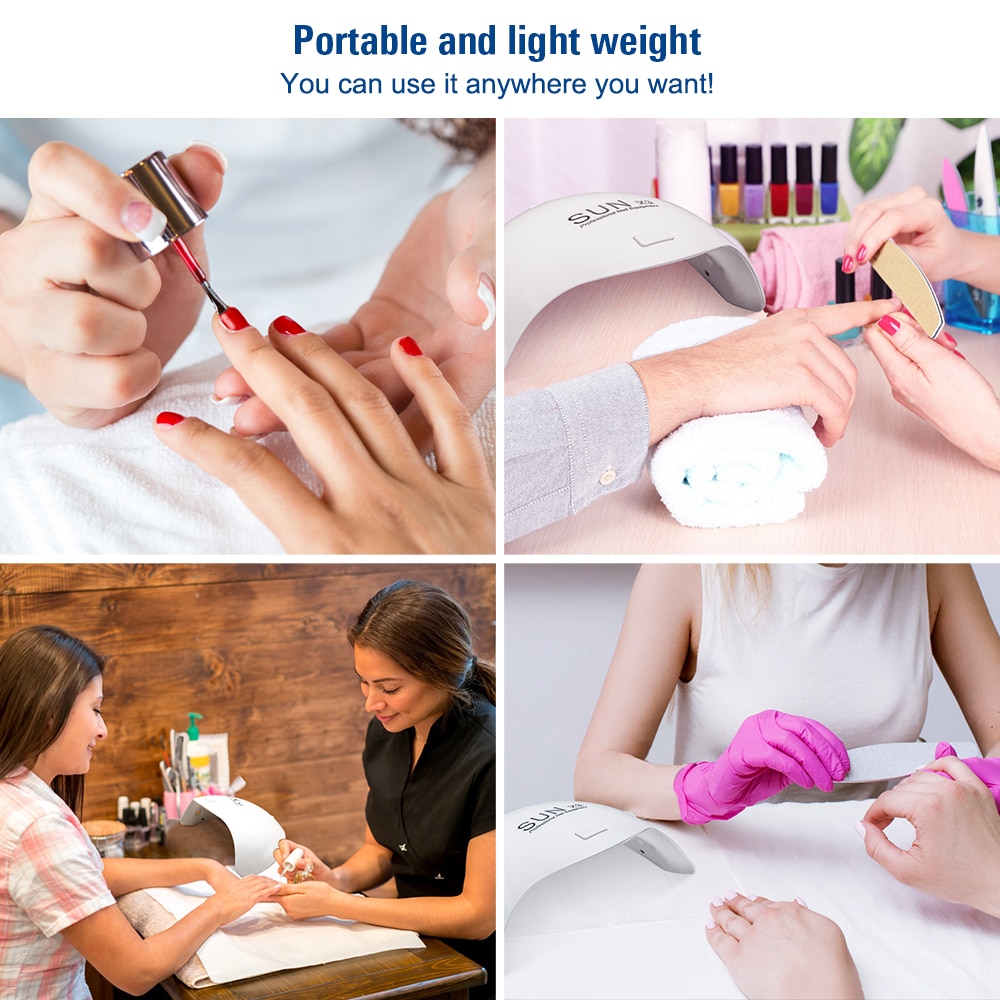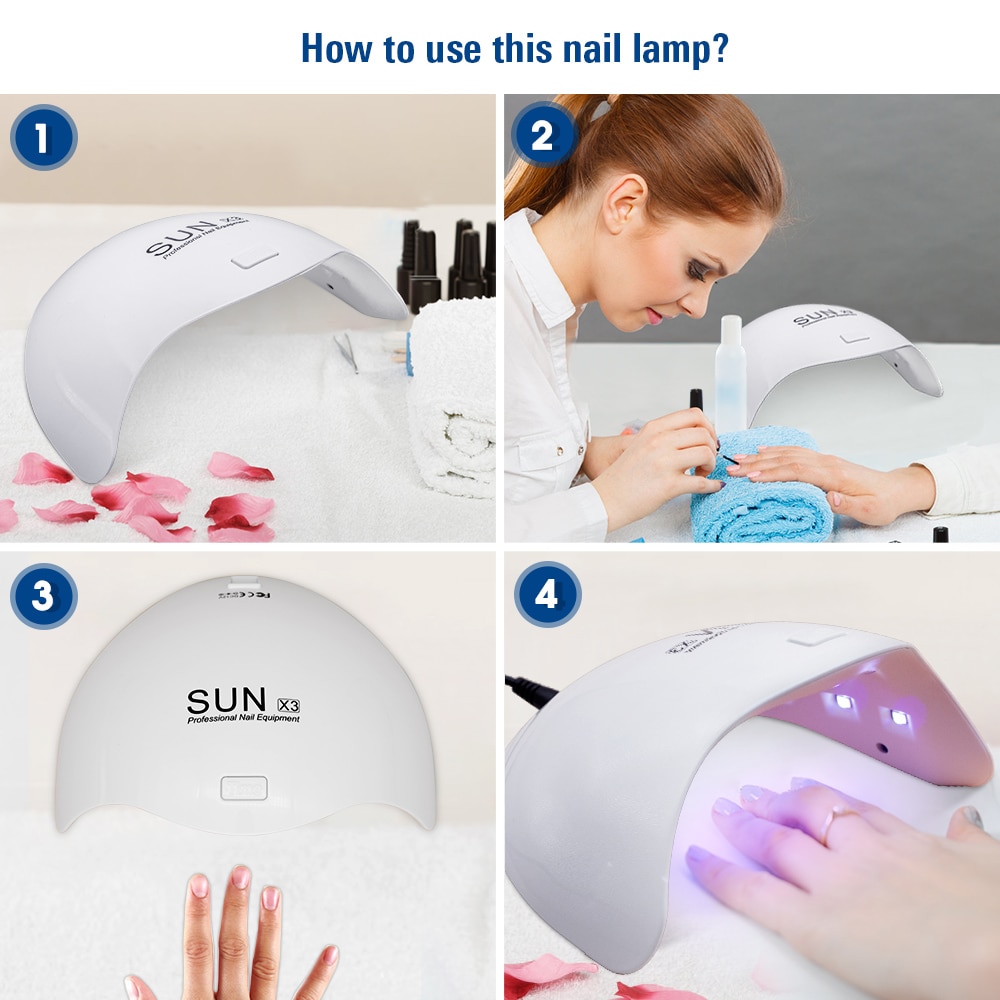 Commodity Quality Certification: 

ce

Weight: 

0.5kg

Voltage: 

100-240v

Size: 

Nail Dryer

Type: 

UV Lamps

Model Number: 

SUNX5 Plus

Item Type: 

nail dryer

Material: 

ABS

Power Source: 

electric

Power: 

80W

Lamp Beads: 

36 Leds

Color: 

White

Size: 

220mm*185mm*90mm

Type: 

UV Lamp

Lifetime: 

50,000Hrs lifetime

Quantity of LED: 

36pcs LED lamp beads

Wavelength: 

365 405mm

features1: 

sun uv led nail lamp

features2: 

nail lamp uv led

features3: 

sunuv lamp nail

UV LED Lamp: 

Lamp For Gel Varnish

Suitable Gel Type: 

UV Gel / LED Gel / Builder Gel All Types Gel

Light: 

UV Light/LED Light

Lamp For Manicure: 

Nail Lamp For Drying All Gels

4 Smart Timer: 

10s,30s,60s,90s

Nail Art Tools: 

Nail Uv Lamp

Led Manicure Lamp: 

80W Uv Lamp