Kids Alarm Clock Sleep Training Clock Colorful Night Light Digital Wake Up Clock with Temperature NAP Timer for Bedroom Teach Boy Girl to Have Regular Sleep Wake Habits
☆【Toddler Sleep Trainer】This Toddler Sleep Trainer is designed to help parents get more sleep and teach their young children to have regular sleep-wake habits. 30 minutes before it's time to wake up the light will glow yellow, signaling it's almost time to start the day. When the light turns green, it's time to wake up!
☆【All-In-One Kids Alarm Clock】All in one kids alarm clock, grows with your child. Whether you're using this as a clock, kids sleep trainer, nap timer, sleep sound machine, night light, indoor thermometer or just a simple alarm clock, this clock has everything you need.
☆【Night Lights for Bedroom】This kids alarm clocks provides 5 different colors of night light to create better sleeping atmosphere for kids/students. The LCD display screen is adjustable with 4 brightness levels. Child safety lock prevent alarm clock setting getting changed by kids naughty tricks. By the way, it also has a thermometer function!
☆【Sound Machine& NAP Timer】Kids Clock has 3 high quality sleep sounds to help your kids fall sleep quickly. 5 alarm sounds to wake your kids up. There are also 8 nap time (10 30 45 1:00 1:30 2:00 2:30 3:00) can choose. The sound volume could be adjusted.
☆【Durable & Safe Construction】Comprised of child safe ABS and silicone, Kids Alarm Clock is FCC, CE, RoHS approved.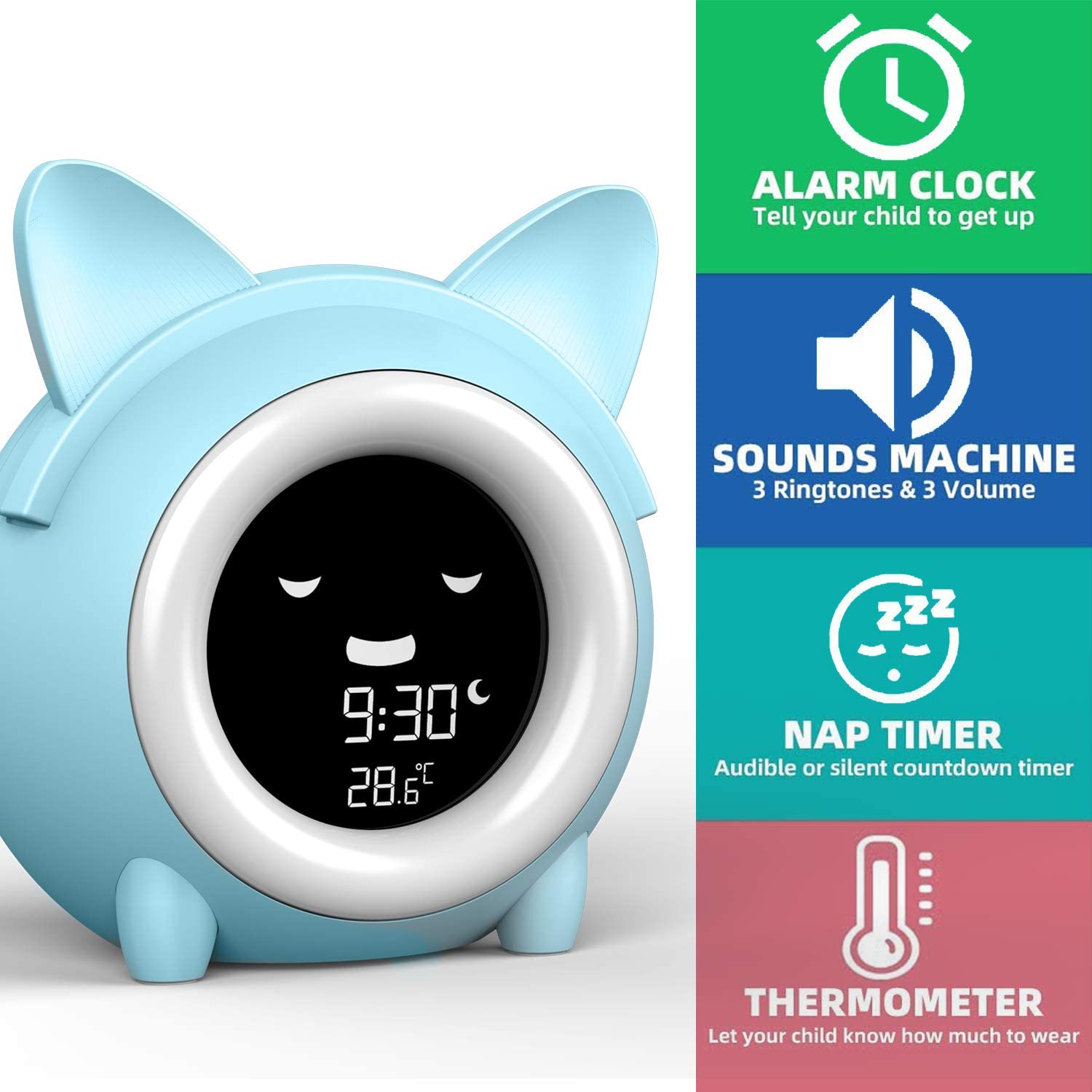 Time to Wake Sleep Trainer Clock, specially designed for children
This kids alarm clock has the functions of displaying temperature, time, alarm, snooze, nap time and so on.
All function buttons are located at the back of the clock to make the alarm clock look more cute and easier to use.
By using colors and facial expressions, it teaches your kids when it's time for bed and time to wake up.
The cute design makes it a good play toy and a sleep trainer for your kids to have a regular sleep-wake habit.
It's an ideal gift for your toddler boys girls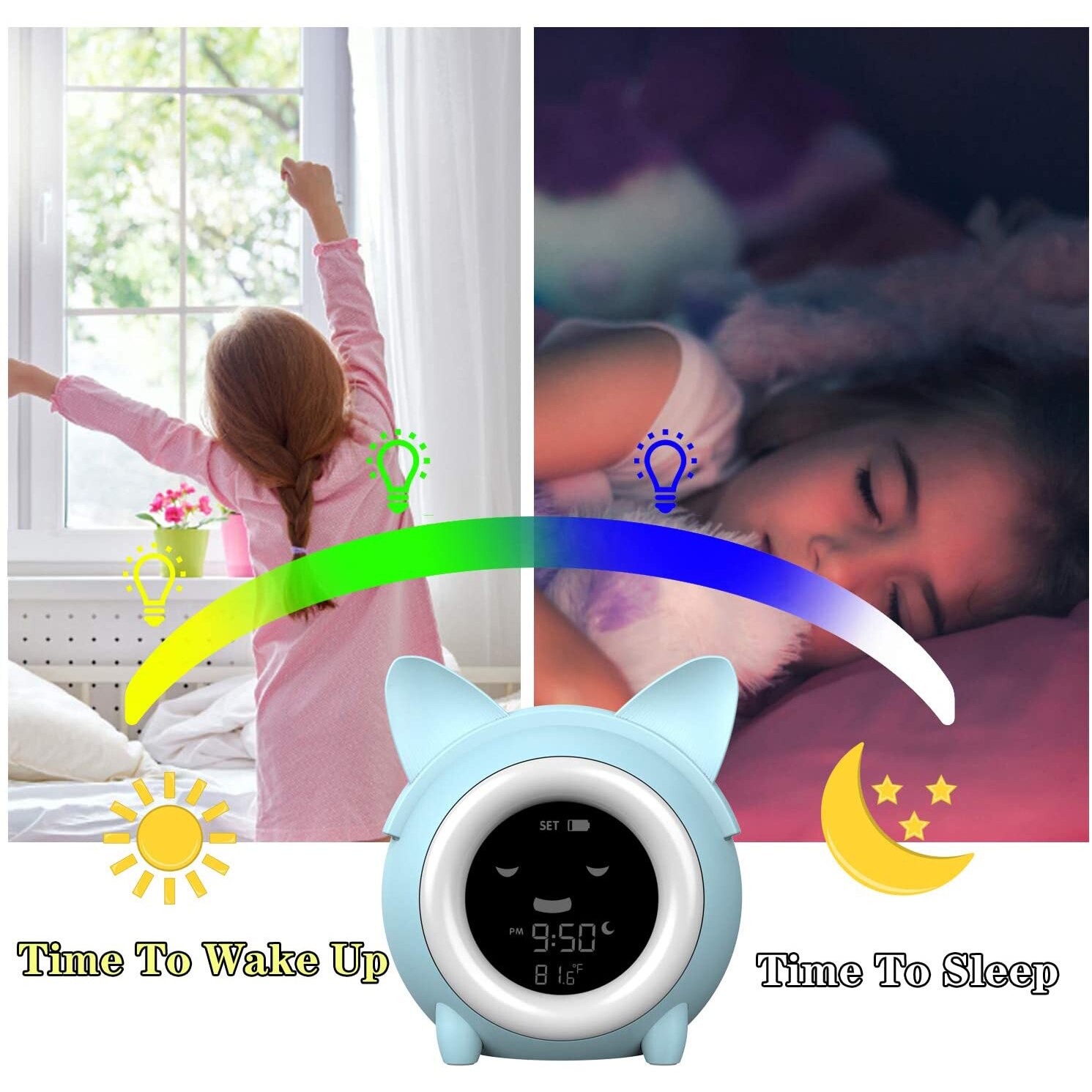 Multifunction Alarm Clock
Sleep/Awake/Alarm Time Settings
Time-Telling Emoticons
Eight Nap Timer and Countdown Settings
White LED Display with 4- Brightness Settings
12/24 Hour Format,℃/℉ Temperature Display
Child Safety Lock and Five Color Changing Lights
5 Alarm Ringtones with 3 Volume Settings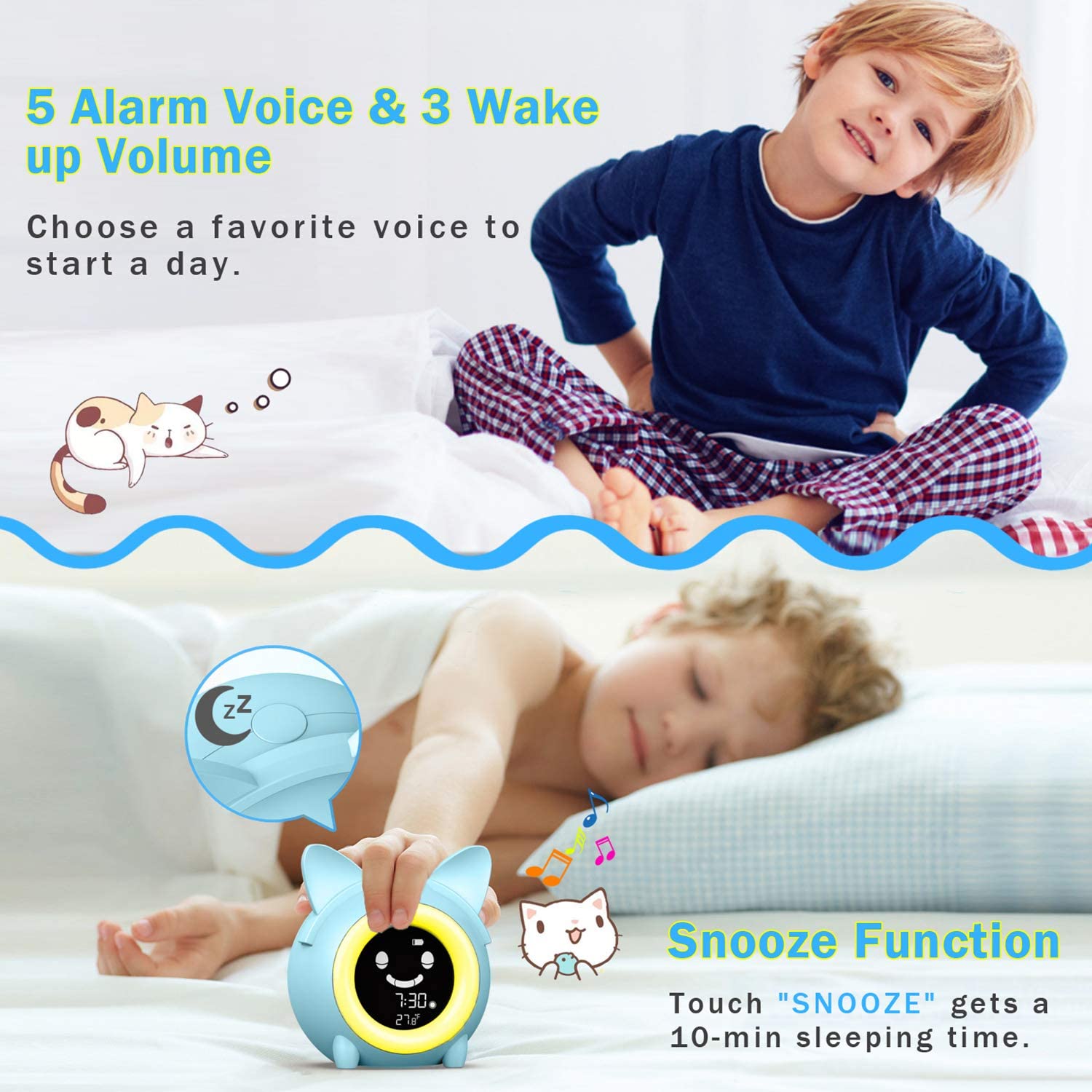 Tech Specs:
Material: ABS
Dimensions: 4.25″ x 4.25″ x 4.50″
Display: 4 brightness settings; 12 or 24 hour, thermometer
Volume: 3 volume settings
Cable: Detachable 1.8m USB
Battery: CR2032 (preserves memory settings ONLY – it must be plugged in for functionality)
Recommended Age: 0+ for night light/sleep sounds; 3+ for all functions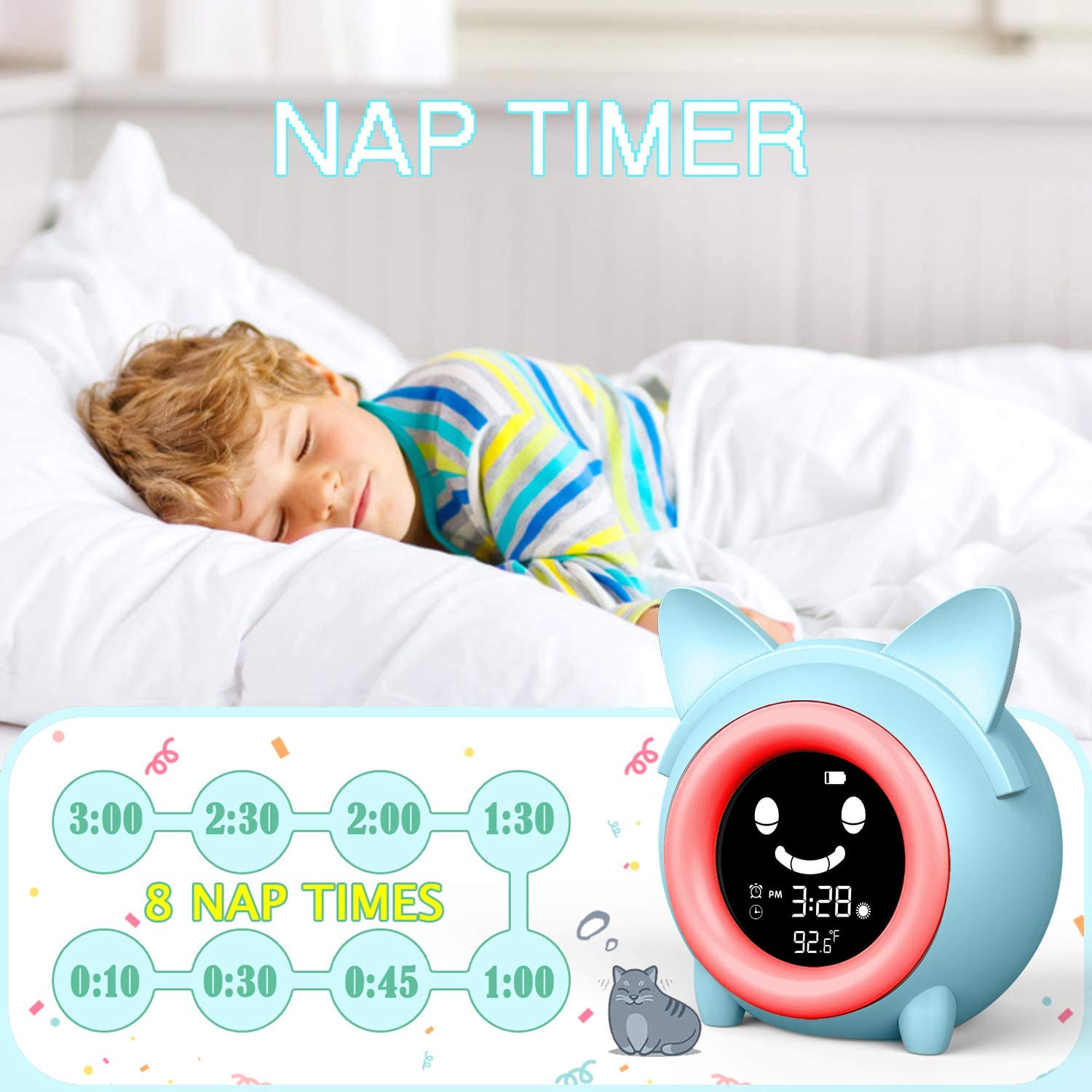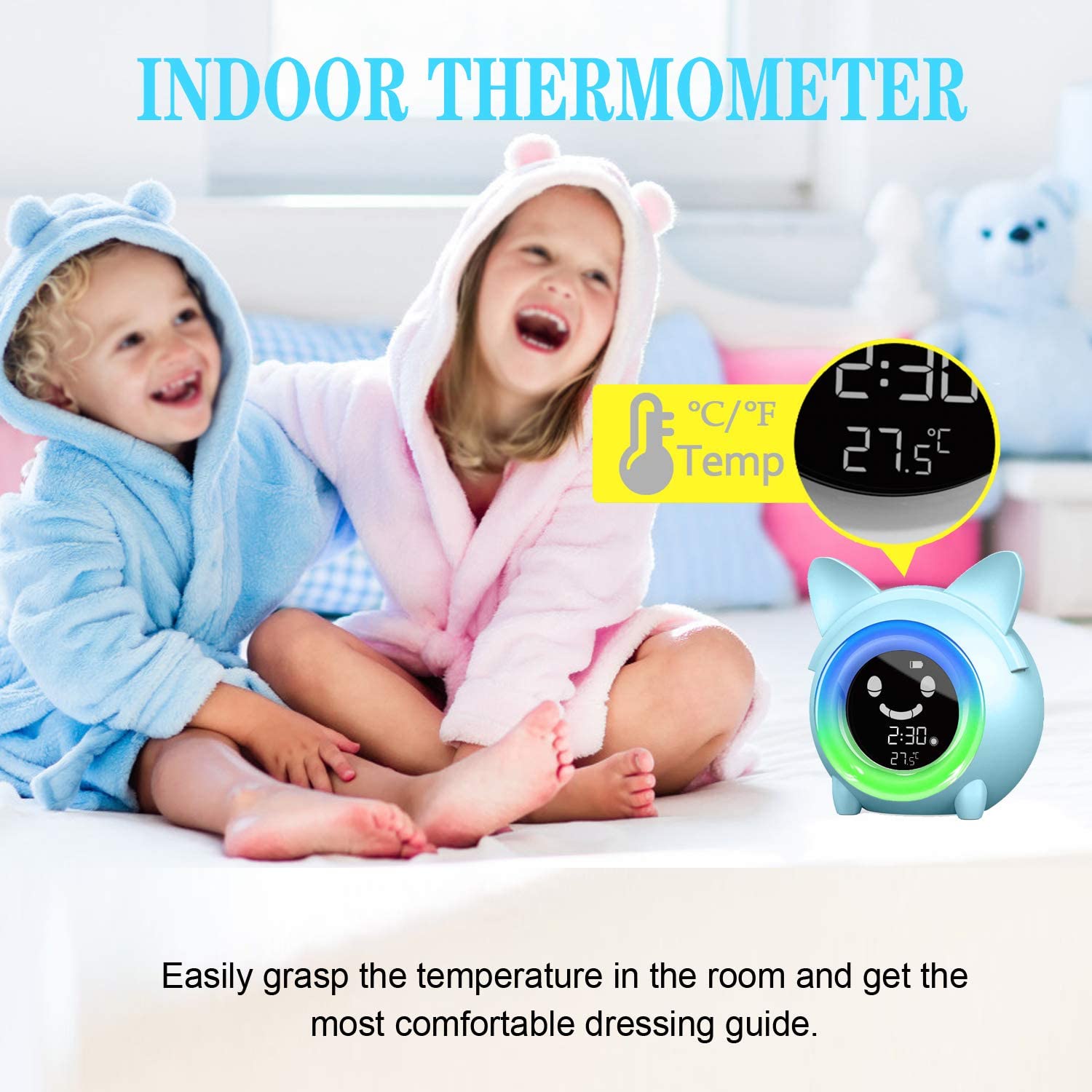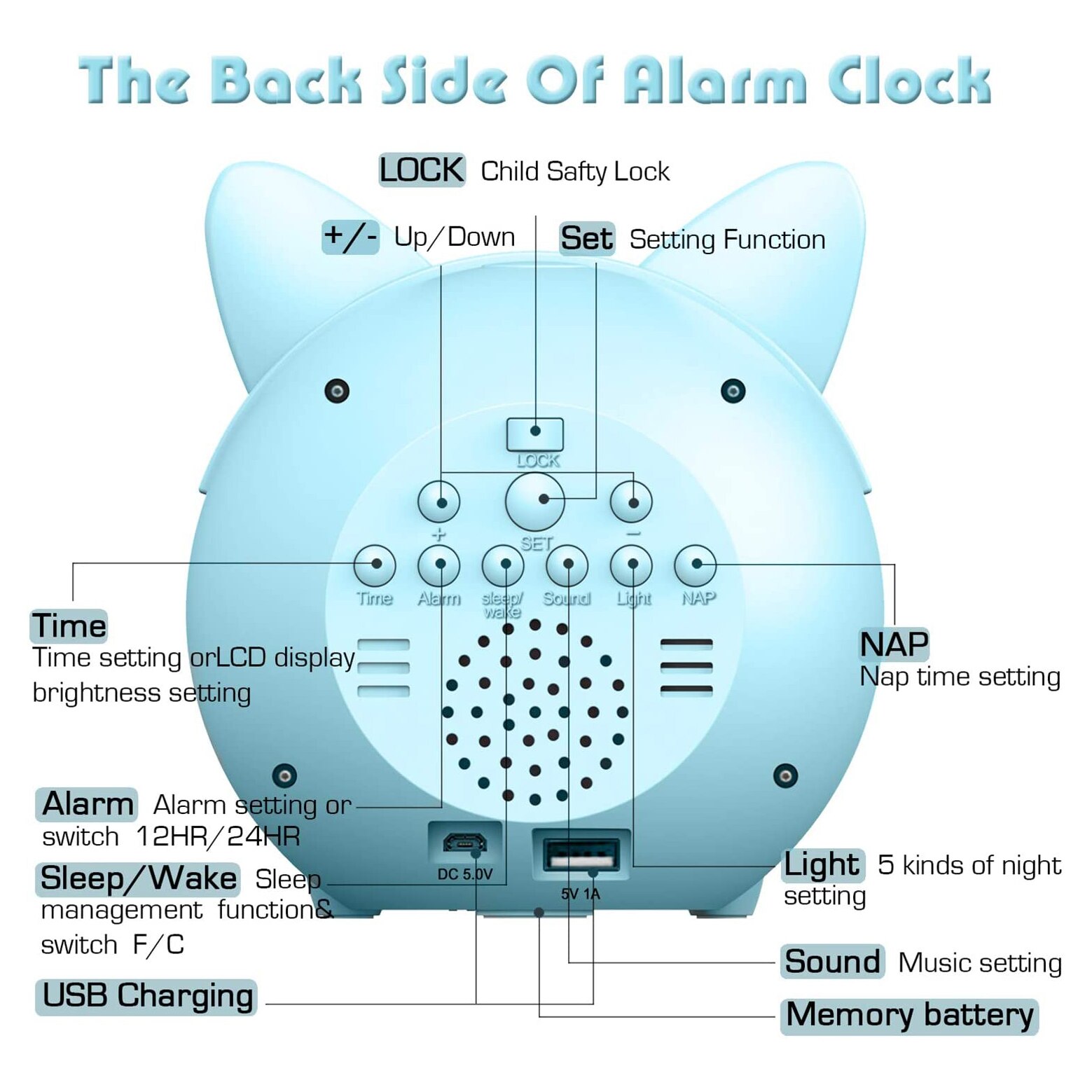 PACKAGE INCLUDED
1 x Wake-Up Alarm Clock
1 x User Manual
1 x 1.8m USB Cable(No AC Adapter)
Other Type Clock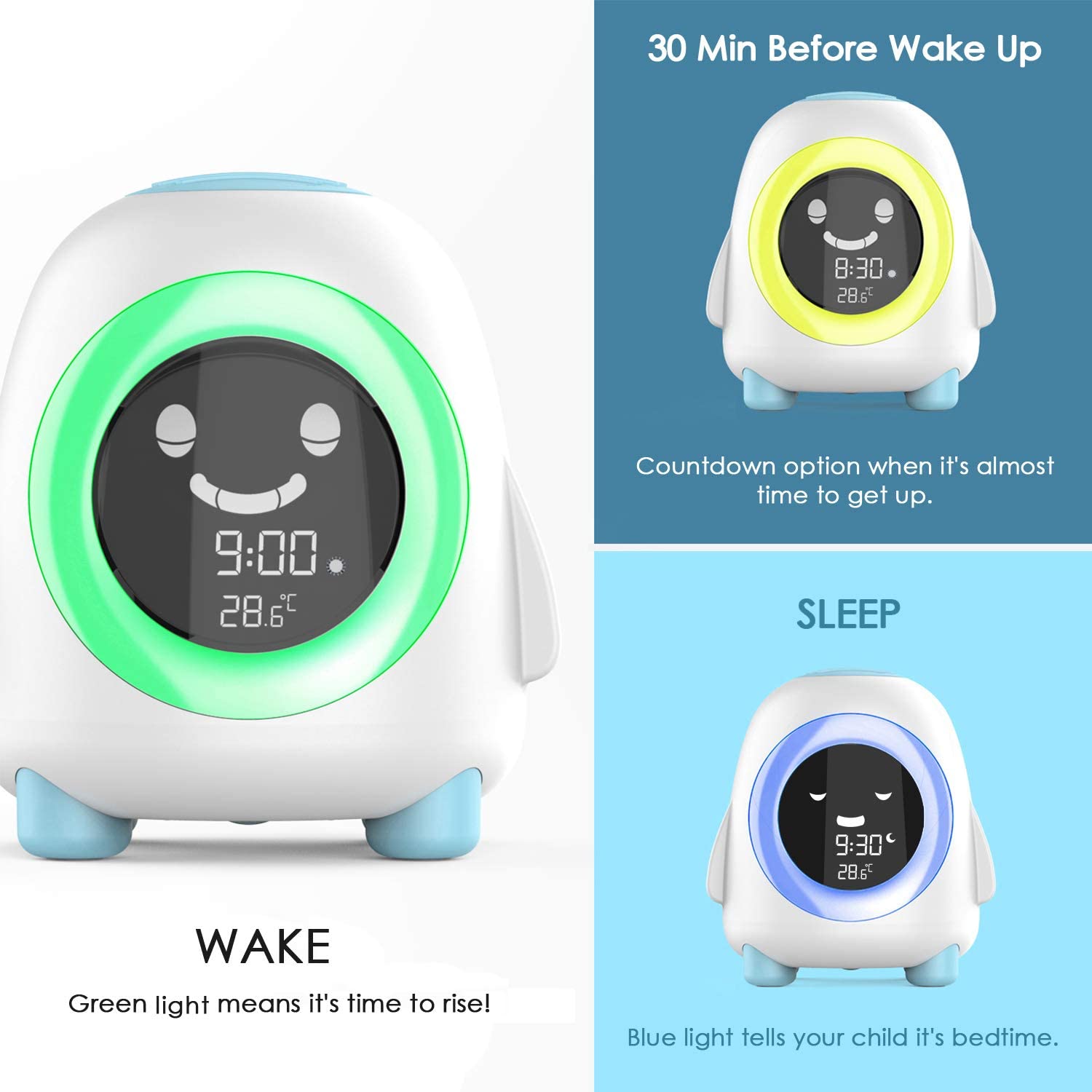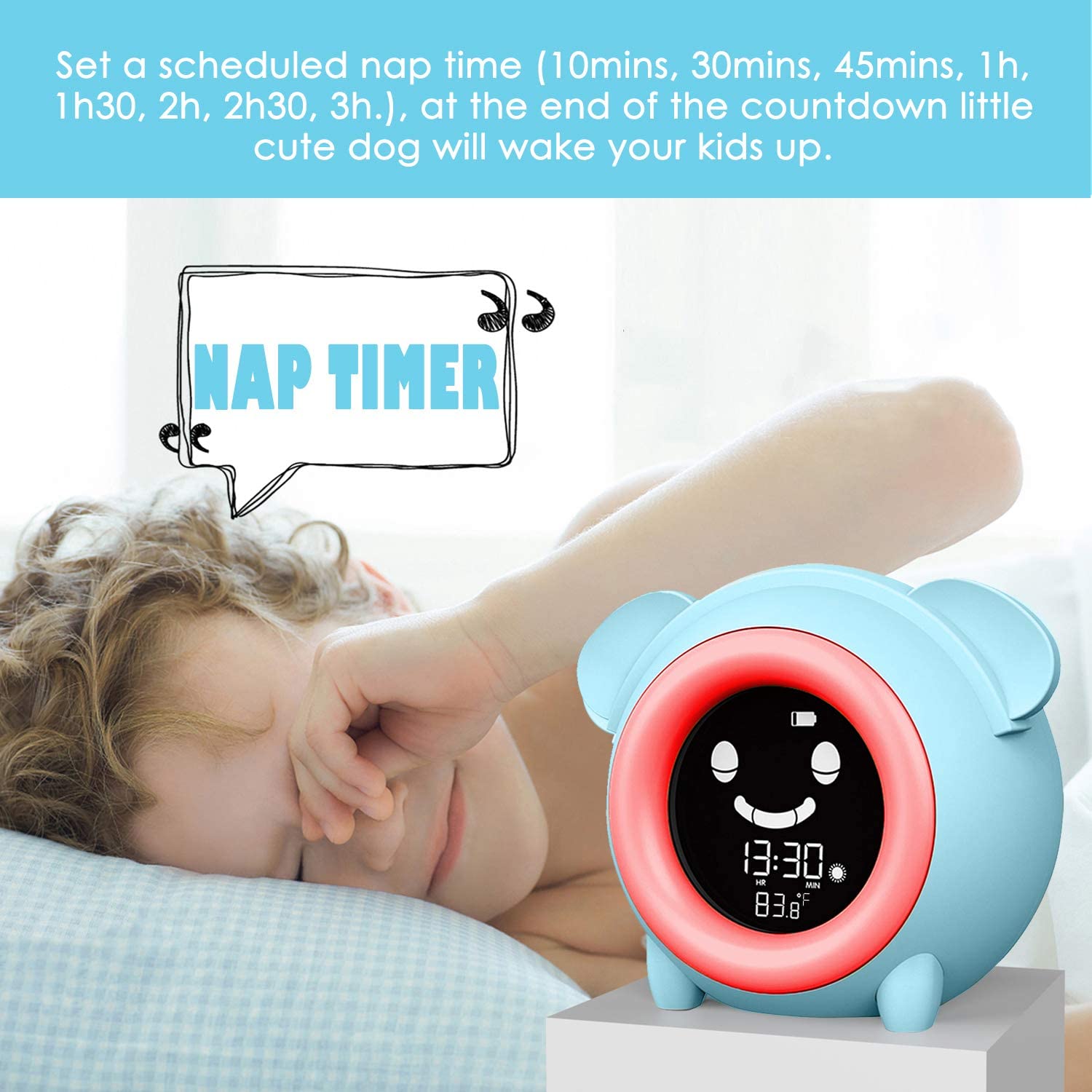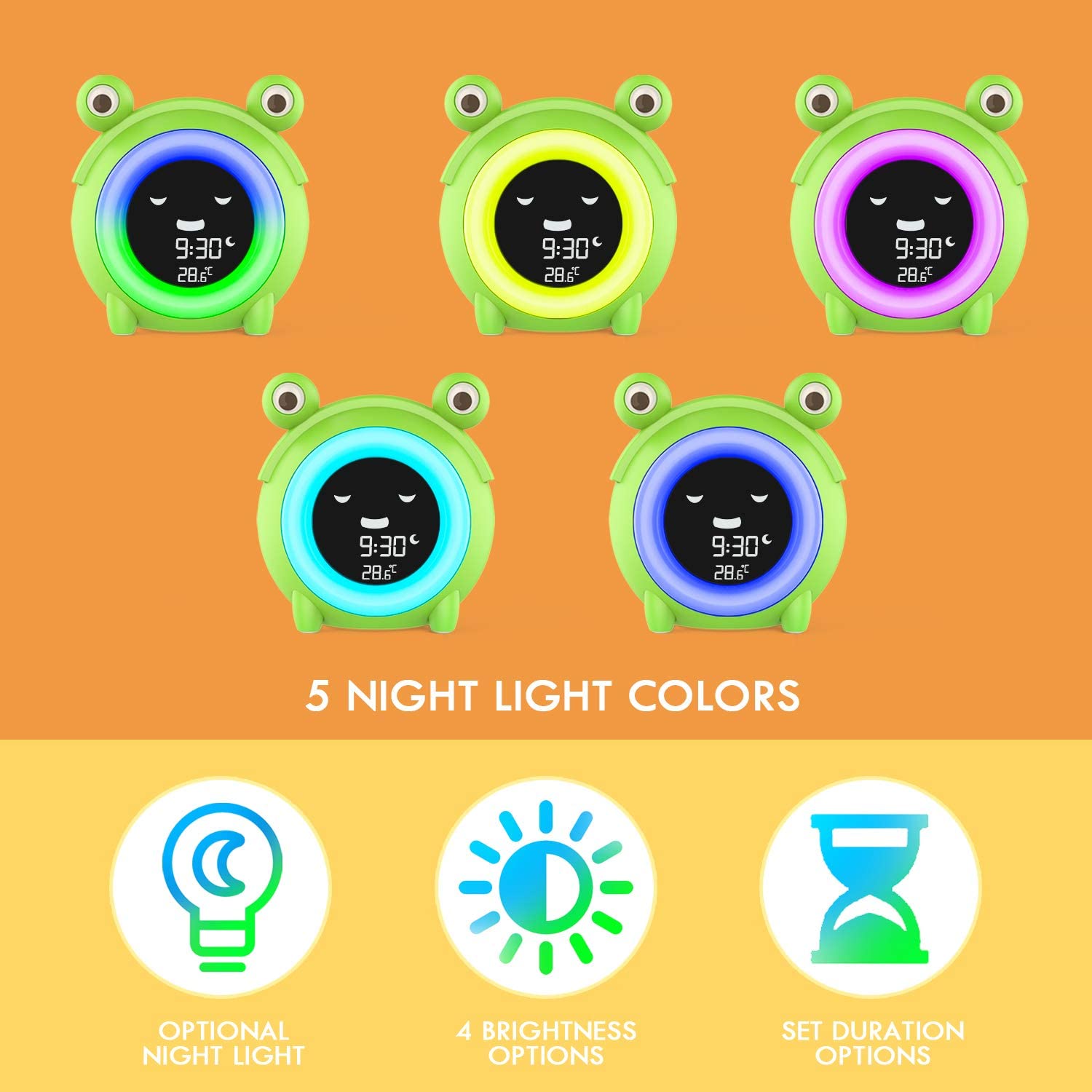 New Version Sleep Traning Clock
Add two functions:
1. Dual alarm clock
2. 4 level brightness adjustable